Freshman QB Heard sparks Longhorns to desperately needed win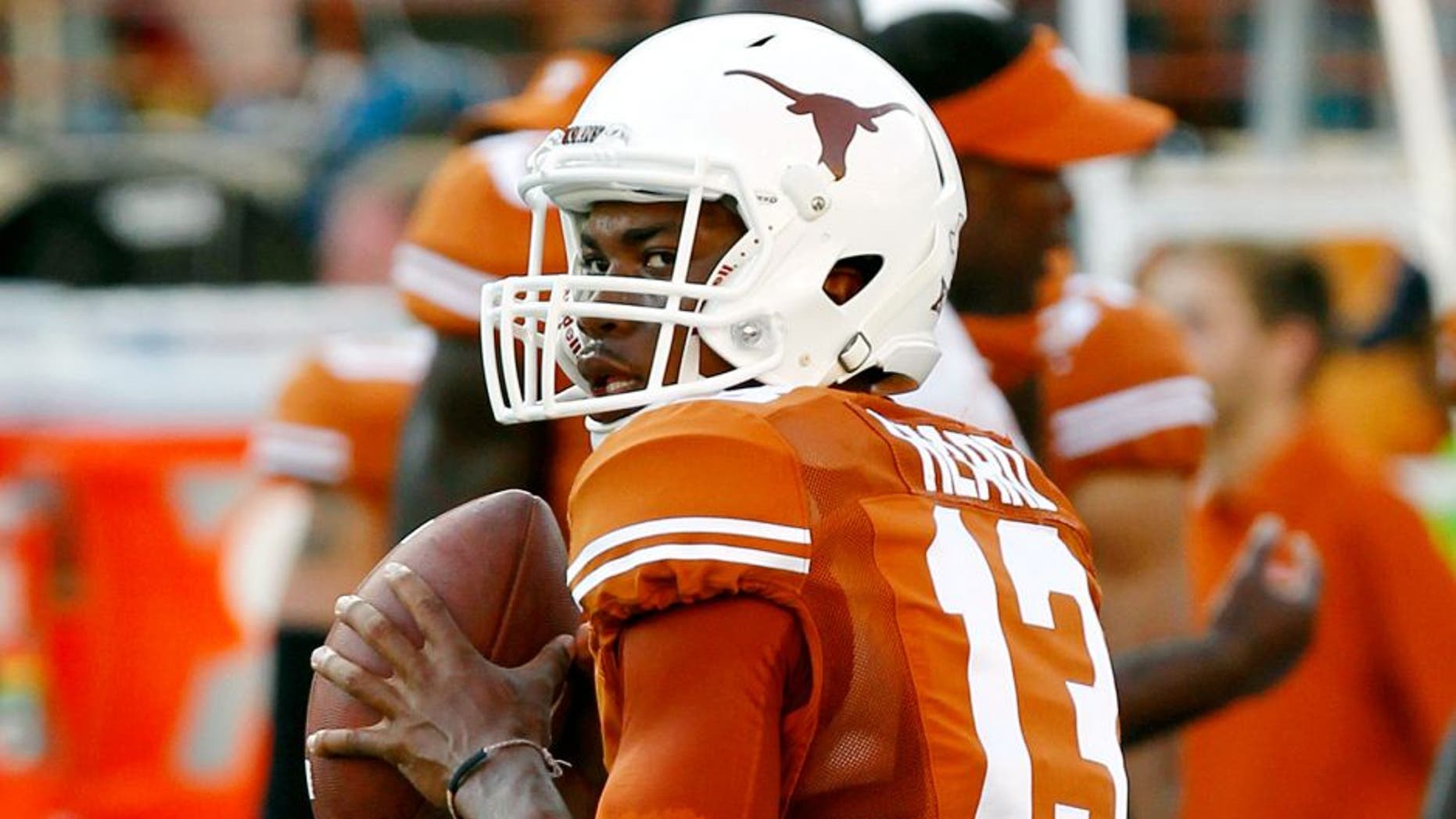 Welcome to the show, Jerrod Heard.
After redshirting last season and then failing to take the starting job away from beleaguered Texas Longhorns quarterback Tyrone Swoopes during spring workouts and summer camp, Heard finally looks to have taken over the position.
Heard took the field Saturday night as Texas' starting quarterback, a decision coach Charlie Strong kept secret until game time. Strong made it known soon after last week's embarrassment at Notre Dame that the job was open.
Heard took the field to an ovation from the home crowd, which had been eager to see Heard get a chance as the junior Swoopes continued to struggle while showing few signs of improvement.
Heard, just a redshirt freshman, can utilize his legs unlike Swoopes and has a strong arm to go with a charismatic personality. All of it was on display in Saturday's 42-28 victory over the Rice Owls. Heard led a touchdown drive on Texas' first possession, breaking downfield for a big gain that was partially nullified by a penalty.
Heard, who won multiple Texas state high school championships, finished his first career start just 4-of-7 passing for 120 yards and two touchdowns, plus 10 carries for 96 yards, including a long of 35 yards.
Finally given the ball, Heard delivered what the Texas coaching staff had said he wasn't ready to do: win and provide some hope for a struggling program.
It will matter little that it all came together against Rice on Saturday night in a rivalry so lopsided that even President John Kennedy joked about it more than 50 years ago.
''We just felt like, `Let's give Jerrod a chance. Let's see what he does.' He's one of those guys who's going to jump out there with a lot of juice,'' Strong said.
After a dispiriting season-opening loss at Notre Dame, Texas surely will find some new energy in their spunky and speedy redshirt freshman, who had failed to unseat Swoopes last year and in training camp after the Longhorns went 6-7 in 2014.
But Strong changed play callers this week, taking the job from assistant head coach Shawn Watson and giving it to first-year wide receivers coach Jay Norvell. Watson had insisted Heard wasn't ready to start and was woefully behind Swoopes, who was 5-8 as a starter in his career, in development.
Strong gave Heard a chance anyway and he delivered a much-needed win with pizazz. After one long run in the second half, Heard turned into a showman, stopping to do several push-ups in the middle of the field.
''What everyone wanted to see was something different. Some change,'' Strong said. ''He can make plays. He's a winner.''
Daje Johnson added an 85-yard punt return for a first-quarter touchdown. Freshman linebacker Malik Jefferson scooped a fumble, one of five Rice turnovers, and ran 26 yards for a touchdown in the third that made it 35-14.
With Heard and Norvell at the controls, the Longhorns had only 277 total yards on offense, but didn't have a turnover while topping 40 points for just the second time in 15 games under Strong.
Heard said he didn't know until right before the game he was going to start.
''My goal was to bring a spark,'' Heard said. ''I felt like coach was gonna use me, probably situationally, (on) third down.''
Jefferson sounded off on some frustration that Heard hadn't been given a chance until now.
''All the guys wanted to see him play. He'd been held back, like in a prison cell,'' Jefferson said.
Heard's first drive covered 80 yards in nine plays. His first run went 35 yards on a scramble out of the backfield. His second completion went 32 yards to Armanti Foreman for a touchdown.
Texas led 21-0 after the first quarter, scoring more points than it had the previous three games dating back to last season.
Rice (1-1) cut the Texas lead to 21-14 on two acrobatic scoring runs by Samuel Stewart. On the first, he kept his legs pumping when tackled by freshman John Bonney, rolling over the defensive back without ever touching the ground. Stewart victimized Bonney again by leaping over him at the goal line.
Rice was driving for another score late in the half before Dylan Haines stepped in front of a Driphus Jackson pass for an interception at the goal line.
Heard struck again in the third quarter, delivering a perfect 69-yard touchdown throw to freshman John Burt on the first play of the second half.
Stewart's 130 yards rushing led Rice, which hasn't beaten Texas since 1994 and hasn't won in Austin since 1965.
''We came in here expecting to win,'' Rice coach David Baliff said. ''We believe we had the better team.''
The Associated Press contributed to this report.