Francisco Trinaldo rings in birthday with inspiring TKO win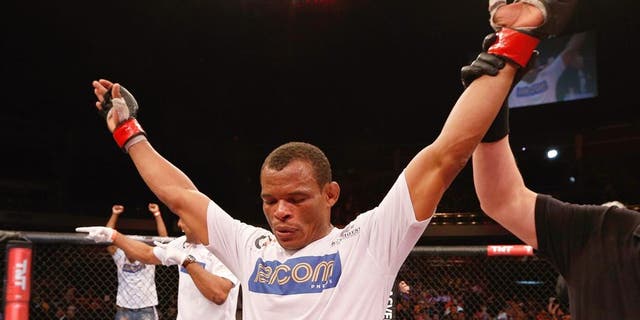 Brazilian Francisco Trinaldo handed "The Ultimate Fighter: Nations" winner Chad Laprise his first loss in violent fashion, Sunday in Saskatoon. The end came at 2:43 of the first round, but the damage started earlier.
Laprise showed excellent quickness with his feet and hands early on and confidently threw big strikes at Trinaldo. Though the Canadian landed good shots, Trinaldo struck most true, with a counter punch that dropped Laprise to the mat.
Though Laprise was not out at that point, Trinaldo jumped on him and kept him down. Trinaldo spun to the back of his opponent as Laprise tried to scramble up, and sunk in both hooks.
From there, Trinaldo flattened out Laprise's hips and smashed him to the mat, face down. Trinaldo didn't look for a rear-naked choke but instead chose the most efficient and brutal way of finishing the bout -- with punches.
Trinaldo unleashed thudding punch after thudding punch to the head of Laprise with his hips completely glued to his back. Laprise covered up but could not improve his position or mount any offense and the referee wisely stepped in and stopped the fight.
Afterwards, an emotional Trinaldo spoke of his ambitions and goals. "I always told myself I would be a good fighter," he said.
"I'm going to train to be a perfect fighter."
Additionally, Trinaldo wants his mother back home in Brazil to help him celebrate his 37th birthday on Monday and asked her to throw a party for the neighborhood kids that he would pay for with his UFC winnings. "I never had a birthday party and now I can afford to have one," he said.
"I want to throw one for the kids of Brazil and they can have anything they want."
Trinaldo then wiped tears of happiness from his face and embraced with his corner men. The win improves the surging lightweight's record to 18-4 and extends his win streak to four.