For some judo Olympians, MMA could be 2nd career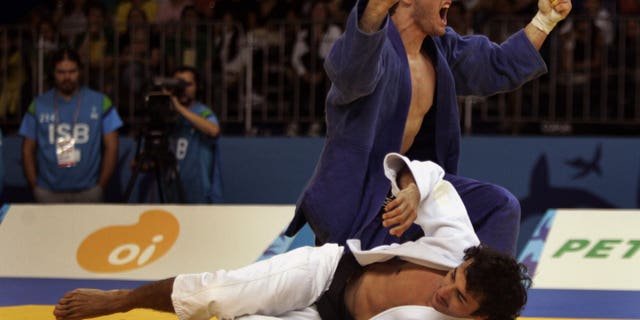 LONDON – While most judo fighters at the upcoming London Games will be focused on trying to win a medal, others may use the Olympics as a way to establish themselves before switching to a more lucrative career in mixed martial arts.
London-bound American judoka Travis Stevens says he is definitely thinking of jumping into MMA -- but only after he wins an Olympic medal. Stevens is ranked eighth in the world and regularly trains in the fusion combat sport.
"It really helps me with my transitions from stand-up to ground. It gives me so many more options that most judo players don't know or understand," Stevens said. "That gives me an edge.
MMA incorporates techniques from disciplines like boxing, wrestling, kick-boxing, jiu-jitsu, taekwondo, karate and judo. Its matches are often held in a cage and routinely draw more fans than boxing and professional wrestling.
Since MMA fights often end up on the ground, judo's throwing and grappling tactics are particularly useful. But its trash-talking, highly commercialized side isn't for everyone and some Olympic fighters dismiss it as a distortion of martial arts.
For others, switching to MMA may be an issue of practicality.
After winning the United States' first Olympic medal in judo at the 2008 Beijing Games, Ronda Rousey took a break from the Japanese martial art and became a bartender.
"I thought that if I won an Olympic medal, life would be good," Rousey said. "But I won the medal and life went on and nobody cared."
Rousey eventually got an offer to try MMA and had her first professional fight last year. She has since defeated all her opponents with a judo arm lock in less than one minute and is now a champion in the combat sport.
"MMA was a good opportunity to use my judo skills to make a living," she said, adding that if that didn't work she had planned to become a rescue swimmer.
Kayla Harrison, an American medal contender in London, said Rousey's new career was inspiring.
"I'm super proud of (Rousey) and super happy for her," Harrison said. "She's taken MMA, put it right on her shoulders and she's going to carry it all the way."
Still, not all Olympic judoka are sold. Five-time world champion Teddy Riner has no plans to try MMA.
"Fighting in a cage doesn't appeal to me," said the Frenchman, adding that MMA lacks the traditional respect in a martial art and promotes brutal attacks not allowed in judo. "There is no moral code in MMA.
"I am a warrior on the tatami, but you always have to respect your opponent."
American taekwondo athlete Diana Lopez said she wasn't impressed by the quality of kicks she saw in MMA fights and joked she is available for kicking tutorials.
"You could get a lot of knockout kicks to the head with taekwondo because not a lot of MMA people expect good kicking techniques," Lopez said.
Her brother Steven agreed that the precision and power of taekwondo kicks could help MMA fighters. Lopez is a five-time world champion with two Olympic golds and a bronze but said he has no interest in getting into MMA, partly because it's not specialized enough.
"Most MMA fighters have a Thai boxing kick," he said. "It's very strong, but if they miss, they're off-balance and cannot counter."
Taekwondo fighters, on the other hand, are known for speed and landing kicks both as part of offensive and defensive tactics.
Lopez, once named by People magazine as one of the world's 50 most beautiful people, also cited a less technical reason for his aversion to the cauliflower ear risks of MMA.
"I like my face a little too much to get into MMA," Steven Lopez said.