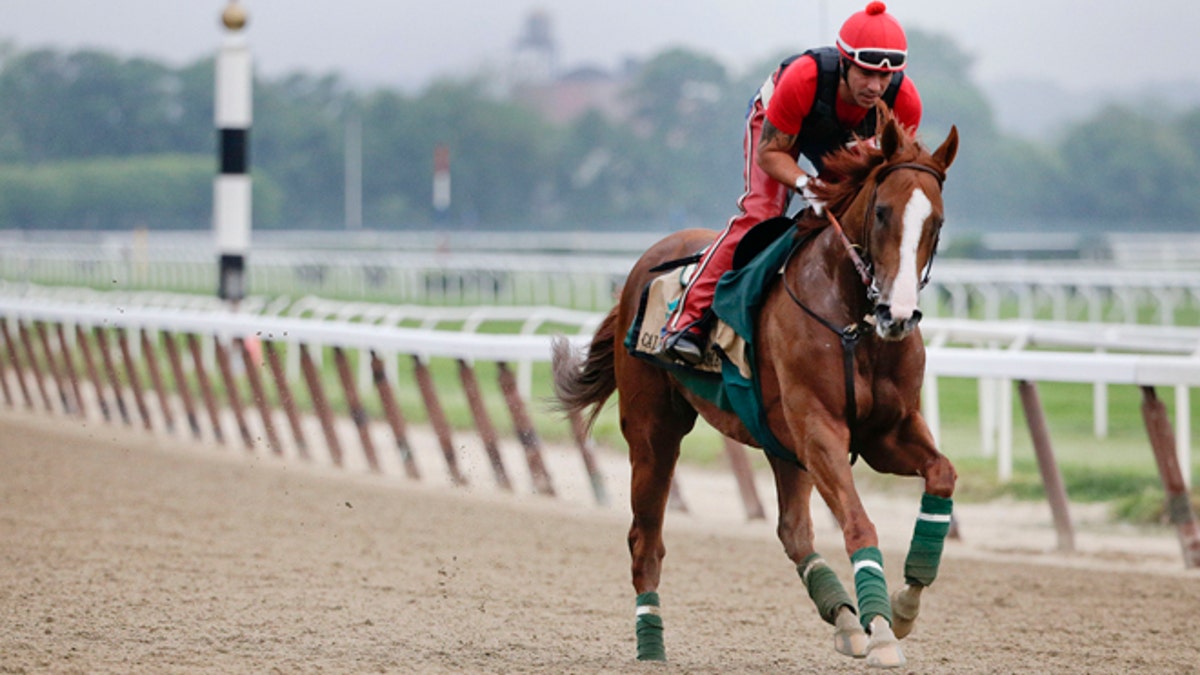 When the 3-year-old chestnut colt California Chrome gets into the starting gate on Saturday for the running of the 2014 Belmont Stakes, he and his jockey, Victor Espinoza, will be looking to justify the horse's 3-5 odds and its status as overwhelming favorite.
They will also be looking to make history by winning horse racing's Triple Crown—the Kentucky Derby, Preakness and Belmont—something that only 11 horses have ever achieved. The last Triple Crown winner was Affirmed in 1978.
Among the ones who have helped the horse make history, if it does win the race, will be two brothers and jockeys, Alberto and Willie Delgado.
The brothers, 49-year-old Alberto and 46 years old Willie, are the sons of a Puerto Rican jockey who came to the U.S. and plied his trade mostly in New England, and they both grew up to love horses and to ride them professionally.
Of the two, Alberto has been the more successful rider, forging a pretty good career, first in Maryland then in Del Mar, Calif., near San Diego.
With more than 2,800 race wins to his credit, Alberto's closest brush with a Triple Crown event victory was in 1995, when he rode Oliver's Twist to a second-place finish at the Preakness.
Willie, as The New York Times' Joe Drape put it, "ate himself out of a career." Which is the sort of comment that might drive a jockey to drug abuse and eating disorders.
But it is true that in 45 races, Willie never once rode a horse to victory.
For a few years, he got a few thoroughbreds to train, but he wasn't much better at that, winning only 6 times out of 116 attempts.
Last summer, Willie followed his brother to Southern California, where he begged, borrowed, and talked his way into being an exercise rider—the guy who rides a racehorse during morning training sessions.
Exercise riders are generally heavier, so that the horse feels extra light during a race, and get to spend more time riding individual horses than they get to ride big-name jockeys, who normally chopper in a few days before a big stakes race or a few minutes before the fifth race at whatever track the jocks happen to be working that day.
Exercise riders get the big money, as much $700 a week if they're successful. And lucky.
Alberto happened to be aboard California Chrome during the (then) 2-year-old's racing debut in April of last year. He finished second.
In May, Alberto rode the horse to victory in his second race. As Alberto slipped off the saddle, he told the trainer Art Sherman, "This horse will win the Derby."
The jockey told the Times, "I've been riding for 31 years, and I never felt that before. It was weird."
After Willie joined Alberto in California, the older brother talked Sherman into taking on the younger one as an exercise rider.
That fall, however, as California Chrome was getting entered into bigger and bigger races, Alberto experienced a couple of missteps with him while in the saddle that led to finishes out of the money.
Sherman decided to find another jockey. He knew where to look. The Mexican-born Victor Espinoza quickly agreed to ride Chrome.
"I've known Victor a long time," Sherman told the Louisville Herald-Leader recently …"We needed to make a change at one time and I said, I've got the perfect jockey for this race. He fits him like a glove. He knows where to position the horse."
Alberto was thrown off California Chrome, at least metaphorically, but Willie managed to hang on to the mount.
Shortly afterward, Alberto Delgado returned to Maryland, where he has raced more than 3,000 times in his life. He watched California Chrome win the Kentucky Derby at a friend's house.
"I'd be lying to you if I said it didn't bother me a little bit," Alberto told the Herald-Leader, "But I've been riding for 30 years, I've been taken off good horses."
After the horse won the Preakness, however, Alberto showed up at a party in his paddock. He shook hands with Sherman and Espinoza, congratulating them.
"Maybe it just wasn't meant to be, and that's what I'm going to go with," Alberto told the Times. "I'm rooting for the horse."
And he has to be happy for his brother, who in the weeks between the Preakness and Belmont has surely become the most famous exercise jockey in the world, giving interviews by the dozen, being asked to analyze and interpret for those of us who don't speak horse everything from California Chrome's mood to his muscle twitches.
He appears to be thoroughly enjoying himself.
And if the subject of his brother bothers him, Willie does a pretty good job of hiding it.
"That's horse racing," Willie told Newsday this week. "Alberto came up to me after the Preakness and said, 'You're doing a good job, little brother.'"
Then Willie added, "At least one of us was able to get here. If we can win the Triple Crown, he'll enjoy it with me."
Follow us on twitter.com/foxnewslatino
Like us at facebook.com/foxnewslatino