Floyd Mayweather says he and Manny Pacquiao will fight this year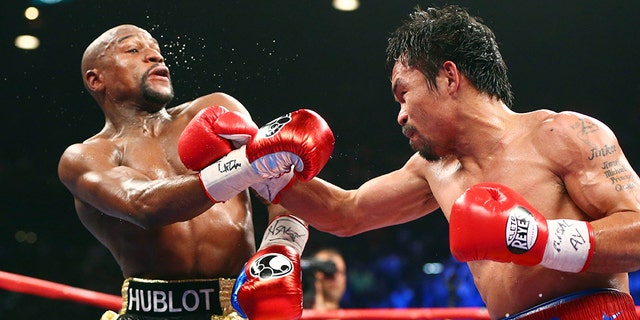 Professional boxer Floyd Mayweather Jr. announced on Saturday he was putting back on the gloves and coming out of retirement to fight Manny Pacquiao in what is expected to be a much-hyped rematch.
Mayweather, 41, made the announcement on his Instagram. He posted a video of him with Pacquiao, 39, appearing to talk at an event. Their dialogue wasn't clear.
TADD FUJIKAWA REVEALS HE IS GAY IN INSTAGRAM POST, IS FIRST OPENLY OUT MALE PRO GOLFER, REPORTS SAY
"I'm coming back to fight Manny Pacquiao this year," Mayweather wrote in the post. "Another 9 figure pay day on the way."
Pacquiao and Mayweather fought in May 2015. Mayweather, who won the fight in a unanimous decision, made about $220 million from the match. Sports Illustrated reported the two boxers may make even more than in 2015.
CONOR MCGREGOR FACES LAWSUIT FROM FELLOW UFC FIGHTER OVER BUS ATTACK, REPORT SAYS
It was not immediately clear when the rematch would take place. The last time Mayweather fought was in August 2017 following another highly anticipated match between him and Irish boxer and martial artist Conor McGregor. Mayweather won the match going 50-0. He was estimated to take in at least $300-350 million from that fight. He said after his win that he was hanging up the gloves and wouldn't step foot in the ring anymore. Pacquiao recently fought in July and defeated Lucas Matthysse.