Floyd Mayweather explains why Conor McGregor has a chance to beat him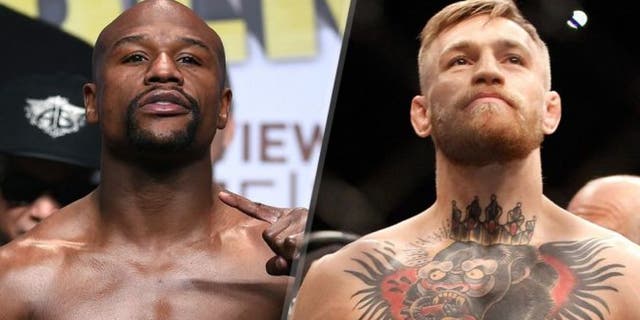 Floyd Mayweather is widely considered one of the greatest boxers of all time, but he's still not discounting the possibility that Conor McGregor could pull off a massive upset if they ever step into the ring together.
Of course, Mayweather knows he would be an overwhelming favorite in a fight with McGregor, who has never laced up his gloves for a professional boxing match during his career.
Whether he's just trying to sell the fight before it happens or if he actually believes McGregor has a chance to hand him the first loss of his professional career, Mayweather refuses to disrespect that nothing is certain when two fighters step into the ring together looking to knock each other out.
"He's a fighter. At the end of the day, I'm a fighter. A fighter is a fighter," Mayweather told TMZ in a new interview. "Remember this, you all ask questions but you've got to do your homework. Do your homework. Conor McGregor, every time he goes out there and defeats fighters, he's standing up defeating fighters. He's in a boxing position and he's beaten fighters. When he did get defeated, he was on the ground. So it's obvious Conor McGregor is a better stand up fighter than he is a grappler.
"So does he have a good chance of upsetting Floyd Mayweather? I can't say but anything can happen in the sport of boxing, in contact sports period."
The 40-year old retired boxer also pointed towards his time off after last fighting in 2015 as well as McGregor's size and power as factors that could play a part in the outcome of their proposed mega-bout currently rumored for September.
"I've been off for a couple of years, I'm 40-years old now so I'm a lot older. He's still in his 20's. I'm in my 40's now. So that could play a major key, we don't know," Mayweather said. "He's a heavy hitter. So we'll just see.
"Has he signed the contract yet? Absolutely not. In due time, we'll just see."
While Mayweather gave McGregor a lot of compliments for the accomplishments he's made during his UFC career, he also took a subtle swipe at him when it came to the drawing power he possesses in his own sport.
"I can't sit right here and knock Conor McGregor. I'm not here to knock a guy. Conor McGregor is the second biggest name in MMA," Mayweather said. "So I'm not going to sit here and knock Conor McGregor. He went out and did what he had to do.
"It's obvious he's done something right thus far to get to the point where he's at and I'm not here to bad mouth him."
In the past, Mayweather has claimed he's the biggest star in mixed martial arts because so many athletes have spoken his name to get headlines. Then again, Mayweather could be referencing Ronda Rousey as the No. 1 draw in MMA as just another jab taken at McGregor while they continue to negotiate for their fight.
Either way, Mayweather says he just wants to give fans the fight they want to see and it's clear the one everybody wants to see most is the matchup with McGregor.
Now it's up to the two sides to come together on an agreement to make the fantasy fight become reality.
"I'm my own promoter, he has a promoter. So like I said before, everything takes time. Nothing happens when we want it to happen," Mayweather said.
"Me, myself and Conor McGregor, if it ever does happen, we want to give the world what they want to see. The world wants to see Mayweather-McGregor. If it happens, it happens."