Five Niners facing a make-or-break season in 2015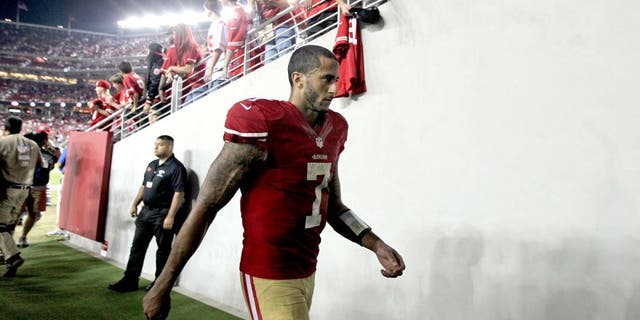 It's no secret that professional sports is a business. Players are traded or waived to save money.

The NFL is no different, particularly because of its strict salary cap.

These five players on the Niners' roster could be facing uncertainty heading into 2015.

Their performance could determine what happens to their future in 2016.

Colin Kaepernick, quarterback
It's evident that Colin Kaepernick struggled in 2014. Kaepernick threw 10 interceptions, lost five fumbles and was sacked 52 times -- career highs across the board. However, offensive coordinator Geep Chryst maintains his issues were overblown. In the offseason, Kaepernick worked with two-time MVP Kurt Warner to work on his quarterback skills. So far, the results have been positive. Entering 2015, which quarterback will the 49ers see: Will it be the Kaepernick that helped lead a franchise to a Super Bowl in 2013 or the Kaepernick one season removed from his worst season as a pro? The dual-threat signal caller signed a six-year, $114 million extension in 2014. He carries a cap hit of nearly $16.8 million in 2016, but the savings would be almost $9.4 million, if he's let go by April 1 (clause in contract). Otherwise, his salary is fully guaranteed. It's not likely this happens, but would the 49ers be better off using that money elsewhere if Kaepernick doesn't show improvement?
Aldon Smith, linebacker
Just days ago, Niners' general manger Trent Baalke flatly stated he wants to retain Aldon Smith. That much is clear because his talent has never been in question: Over his first two seasons with the club, Smith appeared in all 32 games and recorded 33.5 sacks, including 19.5 in 2012. However, his off-field behavior has been the headline of attention over the last two seasons. In 2013, Smith was placed on the non-football injury (NFI) list to enter a treatment facility and he subsequently missed five games. Last season, he was suspended nine games for violations of the personal conduct policy and substance abuse policy. The Niners drafted Eli Harold out of Virginia in the third round and there is no guarantee they keep Smith. Depending on the salary cap situation moving forward, Harold would clearly be the cheaper option for the next couple years on a rookie contract if Smith fails to perform up to expectations or runs into any more troubles off the field.
Darnell Dockett, defensive end
After missing the entire 2014 season due to an ACL injury, Darnell Dockett was waived by the Arizona Cardinals. He signed a two-year deal with the Niners in the offseason, but he's 34 years old and coming off a major injury. Despite losing a number of key pieces in the offseason, the Niners do have some youth available: rookie Arik Armstead has received praise from his teammates; Quinton Dial is expected to take on a larger role, along with returners Glenn Dorsey, Ian Williams and Tony Jerod-Eddie. If 2015 is going to be a rebuilding year for the Niners, Dockett could be the odd man out in 2016. His cap hit would be $3.5 million, but the team would also save the same amount if they cut ties with the veteran.
Vernon Davis, tight end
There's no question 2014 was one of the more underwhelming seasons for Vernon Davis. He was essentially a non-factor on offense, totaling 245 receiving yards and two touchdowns. This came on the heels of 2013 Pro Bowl season that saw him register 850 yards and 13 scores. Recently, it was reported that Davis had played hurt for much of the year, which could explain his struggles. Still, his future was in doubt because of his lack of production. In the 2015 NFL Draft, the Niners selected tight end Blake Bell out of Oklahoma, and they also have Vance McDonald (2013 draft pick). General manager Trent Baalke did recently support Davis, envisioning him in the team's long-term plans. Still, it's not out of the question for the club to start planning for the future, particularly if it's another 8-8 finish.
Reggie Bush, running back
The Niners signed Reggie Bush to a one-year deal in the offseason worth $2.5 million after he was waived by the Detroit Lions. With Carlos Hyde expected to be the lead back, what kind of role will Bush play? It's a crowded backfield in the Bay Area with Kendall Hunter and rookie Mike Davis competing for touches. It is expected that Bush will primarily be catching passes out of the backfield and perhaps contributing on special teams. Entering a contract year in 2016, how Bush performs could determine whether he stays in San Francisco for awhile longer or changes zip codes again.
*All salary cap information used via OverTheCap.com