Fire breaks out in parking lot at Kentucky NASCAR race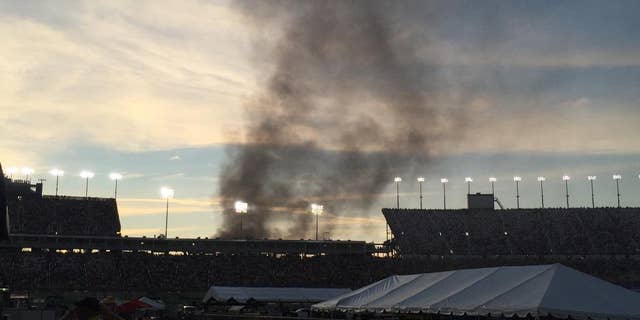 NEWYou can now listen to Fox News articles!
SPARTA, Ky. – Firefighters have extinguished a fire that broke out in the parking lot behind the grandstand at Kentucky Speedway and sent thick, black smoke billowing into the sky.
Track spokesman Tim Bray said firefighters at the facility and from Gallatin County put out the blaze in the speedway's Platinum lot. Bray said the fire began in the passenger compartment of a truck and damaged a second vehicle, with a third singed. No one was injured.
The fire created a brief diversion from Saturday night's 400-mile Sprint Cup Series race that featured numerous early accidents on the newly repaved and reconfigured track. Ricky Stenhouse Jr., Jimmie Johnson, Joey Logano, A.J. Allmendinger and rookie Chase Elliott all were involved in wrecks.