Fabricio Werdum would gladly rematch Fedor Emelianenko on Aldo vs. McGregor card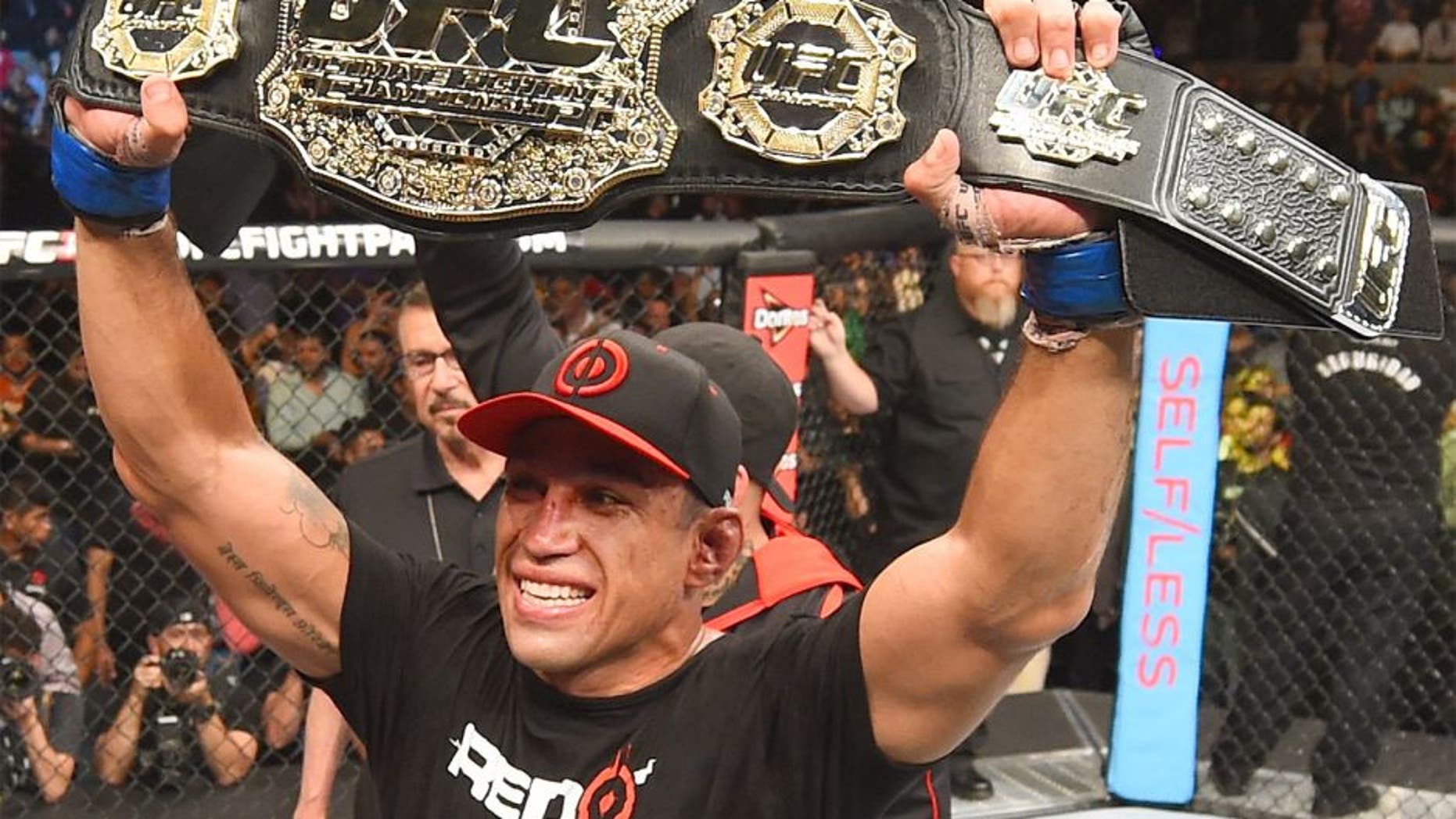 There may not be a happier champion on the UFC roster right now than heavyweight king Fabricio Werdum, who is still riding high just over a month after his submission victory over Cain Velasquez to claim the gold at UFC 188 in Mexico City, Mexico.
Werdum didn't get to his title shot by accident. He had to overcome several tough losses as well as being cut by the UFC during a previous stint with the promotion before finally achieving his dream of winning the title in June.
In the weeks since becoming champion, Werdum has had time to reflect on his win and how much life has changed for him since becoming the top heavyweight in the sport. At 37 years of age, Werdum is mature enough now to know that this truly was the right time for him to reach the pinnacle of the sport and he couldn't be happier with the achievement now that he's finally made it to the top.
"First I want to thank the UFC, Dana White, Lorenzo Fertitta, Joe Silva, and the entire UFC staff for being a big part of my career and giving me the opportunity to fight for the UFC belt. It is a dream come true," Werdum told FOX Sports on Monday. "It took a lot of years of hard work, dedication, and sacrifices. Now I am enjoying being champion with my family and my team at Kings MMA led by Master Rafael Cordiero. We are the best team on the planet.
"I am the same person I was before. I have the same friends, family, and team. But my life has changed in a lot of ways. More people recognize me. My fan base has grown and I interact with fans a lot more. I am living my dream."
Werdum became champion just a few weeks before a dramatic shift in the UFC and the future for the athletes after Reebok became the official uniform sponsor for the promotion and all of the fighters who compete inside the Octagon.
The deal has been met with a ton of skepticism and negativity due to fighters no longer being able to wear their own sponsors into the cage, which immediately cuts down on the amount of money they can make during a fight camp or after their bout is over.
Werdum takes another approach when looking at the Reebok deal and how it affects his ability to make money as the new heavyweight champion of the world. He says his biggest sponsor has stuck by his side regardless of the new Reebok clothing deal and he has no problem with the uniform look the fighters now wear when competing in the UFC.
"I think the Reebok deal is good for the sport in the long run," Werdum said. "It will elevate the sport and make it more mainstream. Just because the Reebok deal is in place doesn't mean that you can't have any sponsors. I personally have one of the biggest endorsement deals outside the UFC with Redot.
"They are an amazing sponsor and take care of me well. But when I compete inside the Octagon I will represent Reebok and get paid very well from Reebok through the UFC. I like the new look of the uniforms. It makes us look more professional."
Count Werdum as one of the fighters who is very happy to be a champion in the UFC right now, especially after signing a new multi-fight contract just before his championship bout with Velasquez in June.
According to the Brazilian, he actually had several fights left on his previous deal but the UFC opted to up the ante before his bout with Velasquez, which led to a bigger payday and more financial stability for Werdum and his family.
"The UFC has treated me like a rock star," Werdum said. "Lorenzo and Dana gave me a new multi-fight deal before my fight when they didn't really have to. I am very pleased. Since I became champion the UFC has given me everything that I have asked for. I love being champion. You will have to kill me to take this belt away from me."
And that's where Werdum is focused next -- defending the heavyweight title that he won in June.
The new king of the heavyweights took a vacation following his bout with Velasquez to spend some much needed time with his family, who he was forced to leave while training in Mexico to prepare for his championship bout.
With his body beginning to heal and his spirit refueled after a few weeks off, Werdum is starting to look towards his first title defense later this year.
"I took a little time off after my fight because I got some bumps and bruises and also wanted to spend time with my family. I was away from my family for my training and then after the fight did some traveling for the UFC," Werdum explained. "Now I am back to training and feeling good. I would love to fight the first week of December."
That particular date doesn't come without purpose because Werdum wants to be a part of the proposed card for December involving the featherweight title unification bout between Conor McGregor and Jose Aldo. He believes that would be a perfect showcase for his first title defense and he even has an opponent in mind if recent rumors are true.
"I would like to fight on the Aldo vs. McGregor card if possible," Werdum said. "I think I could help draw in even more Brazilian fans to the fights as well as fans from Central America. Especially if it will be in Texas or Las Vegas. It doesn't matter who I fight. I'm the champ. If you are the best you should have no problem fighting anybody.
"I am hearing that Fedor (Emelianenko) is coming back. If he wants to be known as the best of all time he has to fight the best. All the best heavyweights are in the UFC. I would be willing to rematch him to solidify who is the best heavyweight of all time. But who I fight is up to the UFC."
Werdum defeated Emelianenko in 2010, bringing the Russian's eight-year and 28-fight undefeated streak to an end. Despite that loss and his subsequent retirement in 2012, Emelianenko is still regarded as the greatest heavyweight fighter of all time and Werdum would have no problem facing and defeating him again to prove otherwise.