Elvis Dumervil accepts blame for loss to Jaguars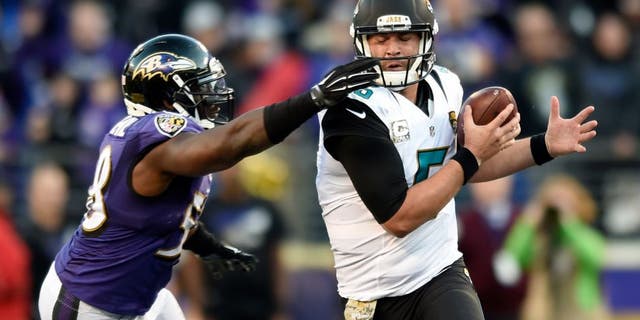 Ravens linebacker Elvis Dumervil grabs the face mask of Jaguars quarterback Blake Bortles in the closing seconds. Gail Burton AP Photo/Gail Burton
The clock struck zero and the Baltimore Ravens seemingly got away with a win on a day littered with turnovers and penalties, but one last flag caused their disappointing season to take another dreadful turn on Sunday.
Linebacker Elvis Dumervil had Jaguars quarterback Blake Bortles lined up for a game-ending sack, but he ended up dragging Bortles down by his face mask, resulting in an untimed down 15 yards closer, just inside kicker Jason Myers' range. Myers connected from 53 yards away, giving Jacksonville a 22-20 victory and sending Baltimore to 2-7 on the season .
Dumervil was disappointed in his miscue, but was more than willing to accept responsibility.
"It's heartbreaking, man. I let the guys down on that play," Dumervil said via the team's official website. "Can't create penalties, especially at a crucial part of the game. Can't happen. I take full responsibility for that one."
While head coach John Harbaugh called it as tough a loss as he's ever going to have to deal with, receiver Kamar Aiken said the Ravens practically gift wrapped the game for the Jaguars with four turnovers, all in the second half.
"I felt like we lost the game way before that," Aiken said of the final play. "It should have never [gotten] to that point. We should have never been in that situation in the first place. That's all on us."
Aiken also took the blame for a Joe Flacco interception on the first play of the third quarter. Aiken couldn't haul in a pass that was slightly behind him, and it was deflected right into the hands of Jaguars corner Davon House. The Jaguars converted the turnover into a field goal and closed within 14-13.
"I hold myself to a higher standard," Aiken said. "If I get my hands on it, I have to make the catch. That's just on me. I'll do what I have to do to make sure that I put myself in a better position to make that catch."