Eagles' Sanchez replaces Bradford, makes critical mistake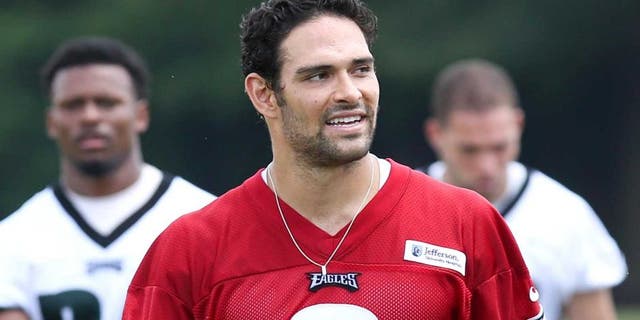 Mark Sanchez can't avoid committing a costly turnover in the Eagles' 20-19 Week 10 loss to the Dolphins. Bill Streicher USA TODAY Sports
Philadelphia Eagles backup quarterback Mark Sanchez replaced an injured Sam Bradford in the team's Week 10 loss to the Miami Dolphins, and although he was able to move the offense with ease, a late interception proved costly.
The Eagles have drove the ball down to Miami's 11-yard line, trailing by just one point, when Sanchez decided to make an ill-advised throw to a covered wide receiver instead of checking down underneath.
According to Eagles head coach Chip Kelly, the interception should have probably never happened at all.
"We were hoping he would just take a peek," Kelly said to reporters after the game, per The Philadelphia Daily Inquirer. "If you don't have it because they're in coverage - it looked to me like Brent was open underneath - just dump it down and play the next snap."
Sanchez finished 14 of 23 for 156 yards passing in less than a half of game action, but his one major mistake arguably cost his team a win in a game that was decided by just one point.