Ducks look to take 3-2 lead back in Anaheim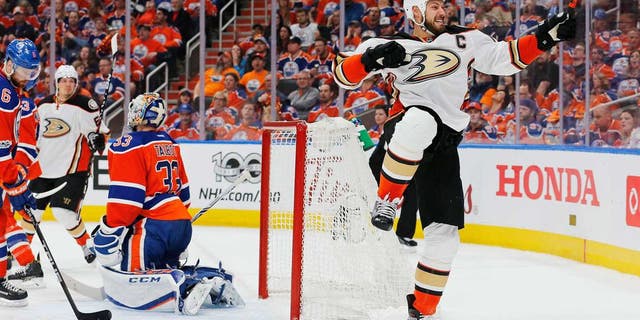 What we have learned during the second-round playoff matchup between the Anaheim Ducks and Edmonton Oilers is that home-ice advantage means nothing.
One of these clubs will take a 3-2 lead Friday night when the series moves back to the Honda Center in Anaheim.
The best-of seven set is now a best-of-three after each team won twice on the road.
Edmonton took the first two games, giving up a total of four goals. However, when the series shifted to Rogers Place, so did the Oilers' hopes of a quick conclusion.
Anaheim got a goal from Jakob Silfverberg 45 seconds into overtime Wednesday night for a 4-3 win in Game 4 to even the series.
The Ducks moved into position to do so after cruising to a 6-3 victory on Sunday behind two goals from Silfverberg, who has emerged as an unsung playoff hero for Anaheim with seven goals, including two game-winners.
The right wing entered the playoffs with eight goals in 48 career postseason games.
Ryan Getzlaf, meanwhile, keeps producing for the Ducks. He had two goals and two assists, including one on Silfverberg's Game 4 winner. It was the longtime center's fifth multi-point game of the playoffs to give him a team-best 13 points.
Getzlaf also is tied with Silfverberg for the team lead with seven goals.
"It's just another exclamation point on the type of player Getzy's been for our hockey club," Ducks coach Randy Carlyle said. "He's our captain. He's our leader. He's done a lot of things that go unnoticed.
"Now in these situations in the playoffs, he's been a guy that's stepped to the forefront and taken the bull by the horns."
Anaheim's captain, who turns 32 on Wednesday, has three goals and three assists in four home playoff games in 2017.
Though the Oilers are in the postseason since 2006, they're in a familiar situation.
Edmonton's opening-round series with the San Jose Sharks was tied at two games apiece after the Oilers were blasted 7-0 on April 18 in California. Coach Todd McLellan's team responded by taking the next two games to advance and he expects the team to step up.
"We won two games in (the Ducks') building. Obviously, it's a road series," he told the Edmonton Journal. "We'll take road-ice advantage into Game 5."
If Connor McDavid, the Oilers' 20-year-old captain, is worried, he's not showing it.
"We were in this same position last series," he told the NHL's official website. "We're going into a building where we've had success before, we're comfortable playing there."
"You never want to play a series where you lose both games at home, but that's the case for both teams. Now it's a race to two."
McDavid (four goals, three assists) is tied with former Duck Patrick Maroon for second on the team in playoff scoring, three points behind Leon Draisaitl.
The native of Germany has registered all 10 of his postseason points over the last six games. That included a four-point effort in a 5-3 victory to open the series on April 26 in Anaheim.
Getzlaf and Draisaitl rank first and second, respectively, in playoff scoring this season among Western Conference players.
Game 6 is scheduled for Sunday night in Edmonton.