Dodt leads Australian PGA, Adam Scott within striking range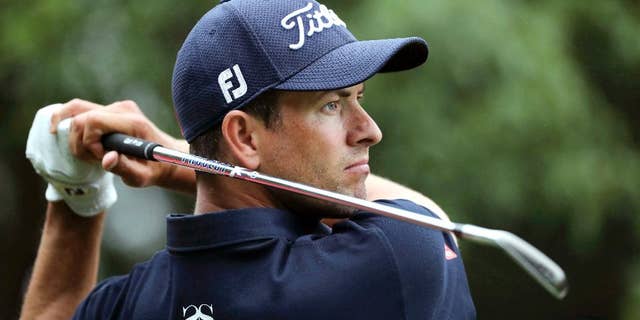 NEWYou can now listen to Fox News articles!
GOLD COAST, Australia – Adam Scott put together back-to-back rounds of 68 and feels like he's really back in the swing of things as he heads into the weekend at the Australian PGA Championship four shots off the pace.
Andrew Dodt followed his opening 65 with a 67 on Friday to hold the halfway lead at 12 under, two shots ahead of fellow Australian Ashley Hall and four clear of Scott and New Zealander Ryan Fox, who share third place.
Harold Varner III had a long, eventful morning before finishing at 7 under — good enough to hold up for outright fifth after two rounds. He was up at 2:45 a.m. for a 5.30 a.m. tee off to finish his first round and completed a 65 for a share of the lead.
He started his second round almost immediately and began well before back-to-back double-bogeys on his sixth and seventh holes — the 15th and 16th holes at Royal Pines Resort. He picked up birdies on three of his last five holes for an even-par second round of 72.
Scott was among the half of the field who completed their first round before the lightning and rain arrived Thursday, so avoided the pre-dawn tee off Friday, instead having a leisurely afternoon start for his second round.
Ian Poulter was not as fortunate, and was roused by 3.30 a.m. alarm; the earliest he can recall in 17 years on the tour. The 40-year-old Englishman had a 68 in his second round and was 4 under for the tournament.
Scott, who spent time on the Gold Coast while growing up in Queensland, known as Australia's Sunshine State, didn't think it was too much of a hardship for the rest of the field.
"You get up at 5 anyway here in Queensland," the former world No. 1 said.. "I felt like a sleep in."
Scott had five birdies and a bogey on Friday, and was hitting most greens with ease, "making it fairly stress free."
"It's the best I've hit in a few weeks," said Scott, who had slow starts at the Australian Open and at the World Cup of Golf last month. "It was nice to find it. I haven't had that crisp stroke through the ball for two weeks.
"I've been very cautious not to hit it too far off line — I was in a spot today where I could trust it."
Dodt finished with a bogey on the 18th on Friday after a previously blemish-free round.
"I hit the green on the last, but unfortunately rushed my first putt and then missed the one coming back. So it was a frustrating way to finish ... but I'm not going to beat myself up about it too badly."
Hall finished runner-up to Jordan Spieth at the Australian Open at Royal Sydney last month, saying the result saved him from having to go out and get a job to support his family.
He finished with a 65 in the first round, waking up at 3:17 a.m. to make it to the early start, and went through the second round in 69.
"It was a record — 3.17 isn't really a good time to wake up but everyone else did it," he said.
After starting on the back nine, Hall was down to 11 under before a triple bogey 7 at the 412-meter 4th hole.
"I was kind of cruising along before a little speed hump, but I got it back in the end," Hall said. "I hit it right off the tee. It was a pretty bad shot actually. It hit the cart path and ended up in the hazard. Took a drop backward a little bit to try and hit the shot over the tree and in the bunker and 3-putted from there."