Did DeMarcus Ware reveal that Peyton Manning squeals when he's sacked?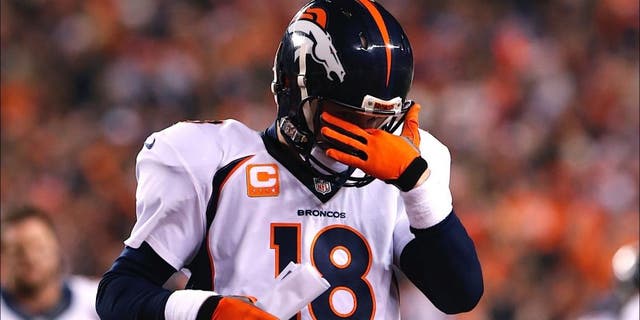 DeMarcus Ware has scored one touchdown in his career and it came back in 2006. Being a defensive end, getting into the end zone isn't easy. Instead, he gets to celebrate when he sacks quarterbacks.
Having recorded 134 1/2 career sacks, he knows the feeling quite well. Only 10 players in NFL history have brought down the quarterback more than Ware has. With that said, he's obviously heard a variety of noises made by opposing quarterbacks after he takes them to the ground.
During Ware's appearance on "Jimmy Kimmel Live!" on Monday night, Ware described some of those sounds. In doing so, he hinted that one particular quarterback who wears No. 18 and a royal blue jersey squealed when Ware sacked him.
Hmm...Peyton Manning wore No. 18 in Indianapolis with the Colts. Kyle Orton also wore the same number with the Buffalo Bills and the Dallas Cowboys. Aside from those two, not many other quarterbacks wore that number while sporting a royal blue jersey.
Unfortunately, Ware wouldn't reveal the secret squealer. You can watch his interview below beginning at the 1:30 mark, in which he imitates a couple of interesting noises made by quarterbacks.
In 2006, Ware did sack Manning while he was with the Cowboys and playing against the Colts. Was that the instance he was referring to? Or maybe it happened in practice with the Broncos. We may never know unless Ware reveals the culprit.