Desert debrief: Five takeaways from a long, strange night in Phoenix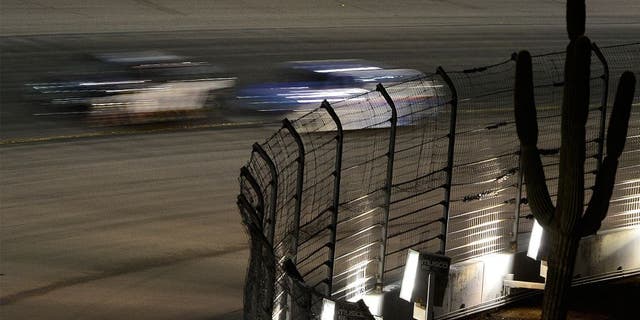 The Quicken Loans Race for Heroes 500 at Phoenix International Raceway was delayed by rain for six hours and shortened by 93 laps because of more rain, but at the end, Dale Earnhardt Jr. won.
And when all was said and done, Kevin Harvick, Kyle Busch and Martin Truex Jr. joined Jeff Gordon as the four drivers who will race for the 2015 NASCAR Sprint Cup Series championship Sunday at Homestead-Miami Speedway.
Here are five takeaways from a long, cold, wet and generally bizarre night in Phoenix.
5. Momentum shifts: How's this for a weird change in the balance of power? Joe Gibbs Racing won the first two races in the Challenger Round of the Chase for the NASCAR Sprint Cup, but failed to win any of the next seven. Team Penske driver Joey Logano swept all three races in the Contender Round, but he and teammate Brad Keselowski are both out of title contention. Hendrick Motorsports entered the Eliminator Round riding a 15-race winless streak, but ended up sweeping, with Jeff Gordon taking Martinsville, Jimmie Johnson winning at Texas and Dale Earnhardt Jr. scoring the victory at Phoenix.
4. Penske's problems: The conventional wisdom is that the turning point of the Chase is when Matt Kenseth wrecked Joey Logano at Martinsville. Not so. The real turning point was a few laps earlier at Martinsville, when Keselowski hit Kenseth on a restart and put him into the wall. The contact broke Keselowski's tie rod and was the impetus for Kenseth losing his temper and going after Logano. If Keselowski doesn't hit Kenseth, it's entirely likely both Penske cars would have made the final round of the Chase. Instead, neither of them will.
3. It's all about the karma, baby: Dale Earnhardt Jr. should have won at Talladega, but got robbed by a late-race caution caused by Kevin Harvick. At Phoenix, it was Harvick who dominated but got robbed by a late-race caution that gave Earnhardt the victory. The karma wheel always turns in NASCAR, just sometimes slower or faster than others. Then there was the little matter of the final 23 laps of the race being run under caution to clean up a two-car accident, while rain was moving in. Asked if that was fair, Keselowski served up this gem: "I don't think it matters what's fair, it matters what entertains the fans and if the fans are happy then that's what it's all about." We know the No. 88 fans are happy for sure.
2. NASCAR fans rule: Phoenix is one of the nation's best racing towns and has been for a long time. At one time, It was the only city in the world that served up NASCAR, Formula One, Champ Car and NHRA races in the same season. Despite the awful weather on Sunday, there was a great crowd at PIR, and most of them hung around deep into the night. Kudos go to all the NASCAR fans who braved the elements to watch the race. You really are the heart of the sport.
1. Four contenders, four great storylines: You couldn't ask for four better storylines than the four title contenders will serve up at Homestead: Jeff Gordon, the retiring four-time champ with a shot to go out on top; Kyle Busch recovering from severe injuries that forced him to miss 11 races to race for his first title; Martin Truex Jr., the scrappy underdog with an even scrappier team in Furniture Row Racing; and Kevin Harvick, looking to become only the second repeat champion since the turn of the century. Just as it was last year, Homestead ought to be a great race. See you there.