David Ragan, wife looking forward to becoming parents again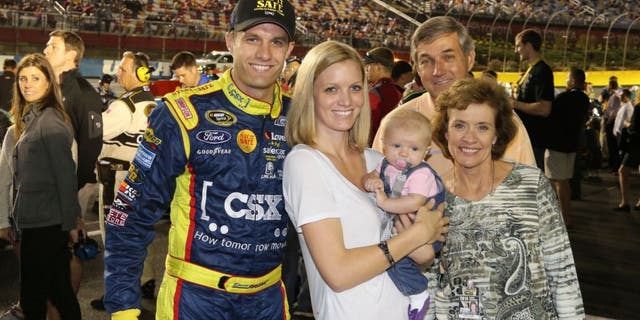 NEWYou can now listen to Fox News articles!
David Ragan and his wife, Jacquelyn, announced on Twitter several weeks ago that they are expecting their second child.
The couple welcomed their first child, daughter Julia, on June 11, 2014, and are excited about another edition to the family.

"Jacquelyn and I are both happy about our new one," Ragan told FOXSports.com on Friday at Charlotte Motor Speedway. "We don't know what it's going to be, but while we're young and we have a lot of energy, we want to procreate and do our part and have some fun."
Jacquelyn is expected to give birth next spring.

"Our girl will be two years old in June, so they'll be about a year-and-a-half apart which will be really fun," David Ragan said.
As for the gender of Baby No. 2, David says the couple intends to find out ahead of time but wait until the holiday season ... or at least that's the plan.

"Sometime around the holidays, around Christmas," he said. "It's going to be tough when you have that envelope that has the gender of your child. I'm going to have to keep it from Jacquelyn because I think she's going to want to sneak and see what it is. Maybe we'll break down at Thanksgiving and do it, but yeah, Thanksgiving or Christmas. We're going to wait a little while."