Dana White: Win, lose or draw, Conor McGregor will fight Aldo or Edgar after UFC 200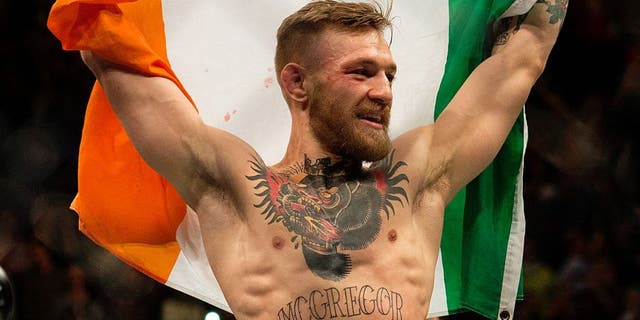 For the second fight in a row, Conor McGregor will compete as a welterweight when he faces Nate Diaz again in the main event at UFC 200 on July 9 in Las Vegas.
But after that, Dana White says McGregor will return to featherweight and face the winner of the UFC 200 fight between Frankie Edgar and Jose Aldo.
"Yes, he will (return to featherweight)," White said Wednesday. "Win, lose or draw in this fight against Nate Diaz, he will go in and he will fight either Jose or Frankie, whoever wins at (UFC) 200."
While McGregor is staying busy, his activity outside of the featherweight division forced the UFC to make an interim title fight between Aldo and Edgar.
With McGregor still not defending the title he won last year, many have called for the Irishman to be stripped of the belt all together, but White defends him holding on to the belt while getting the rematch he wanted with Diaz.
"Conor McGregor is a guy who has had fights fall out seven days before he's supposed to defend his title and he steps up and he takes on all comers," White said on "SportsCenter" on Wednesday.
"The guy fights anybody, anywhere, anytime. He's stepped up late notice and done these things. He wants this Nate Diaz fight, we'll give it to him. We'll make Frankie and Jose the interim title. Whoever wins that fight will then fight Conor McGregor for the true 145-pound title."
Now it might seem odd to make Aldo vs. Edgar for the interim title if the winner is going to fight McGregor. Rumors have swirled for months that McGregor may never return to featherweight after bulking up so much for a fight that originally was scheduled at lightweight, before eventually taking back-to-back matchups at 170 pounds.
McGregor always has faced tough weight cuts to get down to 145 pounds, but White says no matter what happens at UFC 200, the Irishman will return to featherweight to defend his title.
Edgar fell to Aldo in a close decision in his first fight at featherweight in 2013, but since that time the former lightweight champion has won five fights in a row to position himself atop the division.
Aldo will return to action for the first time since losing to McGregor in 13 seconds at UFC 194, which was his first loss in nearly a decade. Now Aldo will attempt to earn a rematch with McGregor while wrapping a title around his waist again.