Dana White: 'What is Nate Diaz worth without Conor McGregor? I don't know'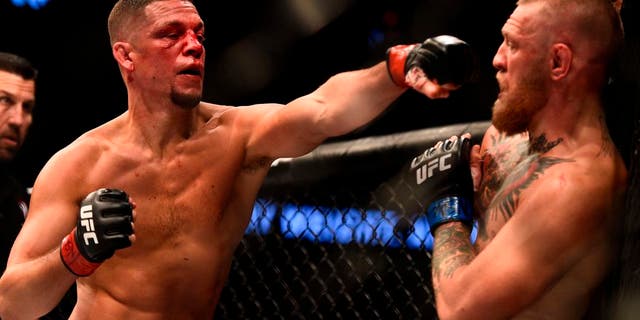 UFC president Dana White would like nothing more than to book Nate Diaz in an interim lightweight title fight against Tony Ferguson, but all signs are pointing towards the matchup not happening.
Diaz went on a tirade earlier this week explaining how he was offered the fight but "circumstances" lead to him rejecting the bout with Ferguson at UFC 213 in Las Vegas. Those circumstances seemed financial in nature, which means Diaz wasn't being paid what he wanted to ultimately he turned the fight down.
White responded to Diaz's demands by questioning just how much drawing power Diaz possesses without Conor McGregor attached to the same event. Diaz and McGregor engaged in a pair of very lucrative bouts last year, splitting the series with one win a piece while putting on two of the biggest pay-per-views in UFC history.
Of course, McGregor has already been defined as the most massive draw in the sport, but could Diaz pull those same kind of numbers without the Irishman standing across the Octagon from him?
Whatever his deal is, hes got a pretty good deal, White told Yahoo Sports about the money Diaz stood to make from a potential fight with Ferguson. I mean, listen, at the end of the day, what is Diaz worth without Conor McGregor? I dont know. The kid isnt in a position for pay-per-view or any of that type of [stuff]. But this [fight with Ferguson] could put him in a position. If he fought Tony Ferguson, it would be for the interim title.
Obviously, if you held the interim title, you would get a piece of the pay-per-view. Diaz has to put himself in a position to make the pay-per-view money.
Josh Hedges/Zuffa LLC/Zuffa LLC via Getty Images
White claims that the UFC has offered Nate as well as his older brother Nick Diaz several fights over the past few months but neither fighter has accepted any proposed matchup.
There's little doubt that the Diaz brothers' return would be welcomed considering the lacking star power at the top of the UFC roster right now with McGregor in deep pursuit of a boxing match with Floyd Mayweather while Ronda Rousey appears to be one step away from retirement in her career.
Still, White says he's not angry or upset that the Diaz brothers continue to turn down fights because he can't make anyone step into the Octagon who doesn't want to be there.
It doesnt frustrate me at all [that theyre inactive] because Ive learned that you cant make people fight, man, White said. Its the same thing when people ask me, What if this guy retires, or What if that guy retires? This is a business that, your head has to be in this game. You have to want to become a world champion. You have to want to fight. You have to go through everything it takes to get into the cage. It doesnt frustrate me at all. Well keep offering the Diaz brothers fights until one of them says yes or they never fight again.
It doesnt change my life one way or another. People really like the Diaz brothers. When they get in there, theyre tough and gritty and they mix it up. Theyre fun to watch and their interviews are fun, and funny. Theyre popular guys. But at the end of the day, people are excited about guys who want to win world titles and they want to find out who [are] the best fighters in the world in each weight class. Those are the things that sell and those are the things that people are interested in.
According to White, the status quo with Nate Diaz won't likely change any time soon, especially considering how much money he made in a pair of bouts with McGregor last year.
The Diaz brothers are unique to deal with," White said. "Nate made a lot of money in that Conor fight and he might never fight again. Well see.