Dak Prescott says he'll 'never be over that loss' to the Packers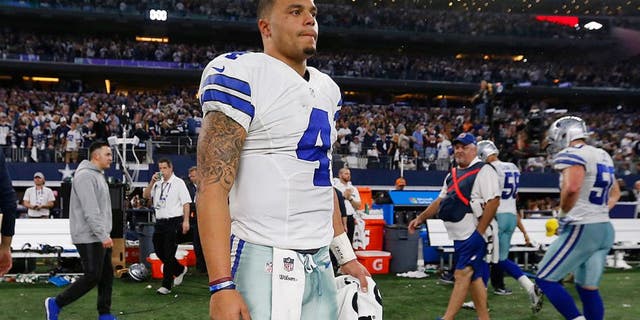 The Dallas Cowboys sent seven players to the Pro Bowl in Orlando this year, though they would have much rather sent zero instead. That's because as the No. 1 seed in the NFC, the Cowboys had Super Bowl aspirations and would have liked to be playing next Sunday instead of this weekend.
Their hopes were dashed when they fell to the Packers in the Divisional Round thanks to a last-second field goal by Mason Crosby. Dak Prescott played admirably in his playoff debut, but that doesn't make the loss any easier to swallow. In fact, he says he'll never get over it.
"It's behind me, but I can't say I'm over that loss," Prescott said after Pro Bowl practice Wednesday, via ESPN. "I'll never be over that loss. I'll never be over any loss. It's definitely fuel to the fire and ready to get back to work."
The Cowboys were undoubtedly the best team in the NFC during the regular season, and even entered the Divisional Round as such. A win over the Packers would have set up a very exciting matchup with the Falcons to determine who was really the best team in the conference.
Prescott obviously realizes how good the Cowboys were, but he wouldn't say if they're the best team in the NFL.
"There's other great teams out there. So it's hard for me to say with me not playing in the last game," he said.
The Cowboys have a number of free agents entering this offseason, but the biggest move they'll make has to do with Prescott's backup, Tony Romo. A trade will be difficult to finagle, making a release more likely. The Cowboys have tried to remain mum on the situation, but it's pretty clear Prescott is the guy going forward.