CUP: There Are Three Sides To Every Story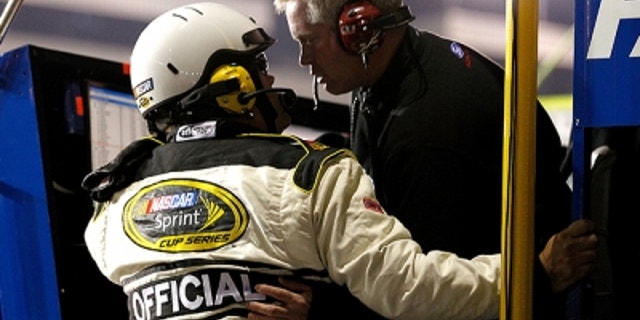 All last week you heard the pundits predict that the Richmond race was going to be wild and the only thing to expect was the unexpected.
Boy was that ever true. We had controversy, confusion and even another new winner in 2012. But, I am getting ahead of myself. Let's go back to the Nationwide Series race Friday night first.
Congratulations to Kyle Busch and Kyle Busch Motorsports. Under the leadership of Rick Ren and Mike Beam, Kurt won in his brother's car. There has been a lot of pressure this year on that bunch.
Their Truck entry hasn't been running up to its normal high performance. The Nationwide car has been struggling. Then you add to that Kyle has had his own pressure of still not having won a Sprint Cup race this year up until Saturday night. So a great job by them and, like we always tell you, winning goes a long way to cure all ills.
Saturday night found us with cold weather, fast speeds and plenty of great racing under the lights at Richmond. Carl Edwards, Jimmie Johnson and Tony Stewart looked to have the dominant cars. Then, with about 82 laps to go in the race, things took a turn for the bizarre.
Now for the most part: Edwards had the best car all night long, and it was shaping up to be his first win of the season. He led more than 200 laps, and it looked like it was his race to lose. Then, here came that No. 14 car of Stewart. Stewart led more than 100 laps and served notice he was on his way to his third win of our young season.
For those of you who were in the grandstands or watched our NASCAR on FOX broadcast, things turned weird pretty quickly. It got very confusing to everyone across the board.
Before the green flag came back out with 82 laps to go, Edwards said his spotter told him three times that NASCAR told him he was the leader of the race. Up in the TV booth, we even saw his No. 99 posted as the leader on the track's infield scoring tower. So Edwards, thinking he was the leader and even in the not-preferred outside line for the restart, thought it was his responsibility to restart the racing action.
A lot of folks don't know this, but down on the apron of the track are two white lines that designate to the driver a restart zone. It is basically a point of reference for the driver to use when restarting the race. In that box, if you want to call it that, the leader knows he has to restart the race, or the flagman will restart it for you.
So they are coming to get the green and the perfect storm of things going wrong at the time continues. Edwards is restarting in the wrong line, thinking he is the leader, which it turns out he is not. Stewart is the leader and is in the right line, but had been struggling with restarts all night long by spinning the tires.
If Edwards did restart early, he did it by about a car length — and that is questionable. However, what magnified to the 100th power his jumping the start was once again, Stewart's car simply wouldn't go. Stewart had the whole inside line stacked up. So those two elements — Edwards leaving early, Stewart not going at all — visually gave everyone the perception that Edwards had really jumped the restart by a much greater margin.
Now, NASCAR maintained that while its automated scoring system might have tallied Edwards as the leader under caution, that the teams were all told before the restart that it was Stewart the leader and then Edwards — not the other way around, as Edwards maintained.
So after jumping the start, the next lap, NASCAR issued the black flag to Edwards. Now the rule is, if you beat the leader and cross the start/finish line before him, you are supposed to give him the spot back. However, remember that you are on a short track. The joint is only three-quarters of a mile. I think Edwards was in the third turn before Stewart even got onto the back straightaway.
So a lot of things happened simultaneously that set off a wild chain of events. With the black flag being issued, Edwards was assessed a drive-through penalty which means he had to come off the track and drive down pit road. When he did that, it immediately took Edwards out of contention, so his chance of getting that first win in 2012 went out the window.
At the same time, one of the other major contenders, Jimmie Johnson was also serving a penalty as a tire got loose from his pit area. His penalty forced him to go back and start at the rear of the field. At that time, it was like 36th spot. So now you have two of the strongest cars in the field no longer being a factor.
So that's great news for the leader, Stewart. He has the race in hand and is pulling away from Kyle Busch. As I mentioned earlier, at that point it looked as though Stewart was going to get his third win of the season. The problem was the racing gods didn't see it playing out that way, and so then we had our next controversy of the evening.
With about 14 laps to go, NASCAR called a caution for debris. Stewart said it was an unnecessary caution for a plastic water bottle. There were folks on radio saying it was for a piece of sheet metal. At the same time, Jeff Burton claimed it was a beer can.
Anyway, the cars come down pit road. Stewart, who had problems in the pits earlier in the evening, has problems once again. He had a bad stop while Kyle Busch's crew gave him a perfect stop. Kyle beat Stewart out of the pits. They restarted the race, and here came Dale Earnhardt Jr. He was able to get by Stewart for second spot but couldn't beat Kyle.
So there were a lot of bizarre things that happened late in that race Saturday night that led to confusion and a lot of frustration. Like the headline of my story says, there are three sides to every story. In this case, there is the driver's side, the NASCAR side and the truth.
The truth is Edwards did jump the restart. As for the caution for debris, well, NASCAR doesn't make this stuff up. But it reinforces an argument I have made for quite a while now. I would like for NASCAR to put on display at the next race all the debris that caused any cautions the previous week.
Have it tagged and open for all to see. Here was the debris that caused the Lap 22 caution. Here is the debris that caused the Lap 182 caution, etc. I say make it a totally transparent process, which would eliminate these times when everyone questions whether there really was debris out there worthy of a caution.
Personally, I don't believe there was a mystery caution with 14 laps to go simply thrown to tighten up the field. There was something that caused it. Having it on display the following week would be a process to show everyone the reason why and help eliminate some of the doubt people have. Folks can argue circumstantial evidence all they want to, but with the process I have been asking for, that would all go away as you would have the truth on display.
So, stepping away from all the bizarre happenings and confusion, you can't lose sight of the fact that Kyle Busch now has won his fourth consecutive spring race at Richmond. He has also earned his first win of the season and, hopefully, turned things around from his slow start in 2012.
Our points leader, Greg Biffle, didn't have the greatest of nights, finishing 18th, and that really tightened the points up. Earnhardt Jr. is only five points back. Denny Hamlin is nine points back. In fourth place is Matt Kenseth, who is only 10 points out of first.
So now we are a quarter of the way done with our 2012 NASCAR Sprint Cup season. If you stop and look down through the points list after Richmond, you will quickly see there are some guys in trouble that better get going or risk missing the 2012 Chase.
Jeff Gordon is back in 17th in the points. Jeff Burton is in 20th, followed by AJ Allmendinger in 21st. On his way up is Kasey Kahne. After his horrible start with his new team at Hendrick Motorsports, Kahne has now enjoyed three top-10 finishes in a row.
Remember, it wasn't that long ago when Kahne was down in the 30s in points and faced the real possibility of falling out of the top 35 in points necessary to guarantee a spot in the race each week. These past few weeks have been exactly what the doctor ordered for that team, and it has rebounded to 23rd spot.
Now for the others I mentioned who are in trouble, don't forget the two wild-card spots that are available for those who don't finish in the top 10 in the points for a guaranteed spot in the Chase. These guys need some strong runs and a couple of wins. Guys like Burton and Allmendinger also have to get north of that 20th position.
You could have five wins under your belt at the end of the regular season, but unless you are 20th or better in the points, those wins don't help you a flip when it comes to qualifying for the two wild-card positions. So there's a lot of work to be done.
The other thing I forgot to mention last week was adding my congratulations to Johnson. He was voted once again by Forbes magazine as the most influential athlete. The key thing to remember is this just isn't for the sport of NASCAR. Jimmie was voted most influential in all of sports.
That's a great compliment to our five-time champion, who I still maintain hasn't gotten the full measure of credit he deserves for the amazing things he has done in NASCAR. It also says a lot about our sport and the impact it has.
So we just left a three-quarter-mile track and it's time to go to our biggest track — 2.66 miles of high-speed action at Talladega Superspeedway. It's the epitome of races where anything can and usually does happen.