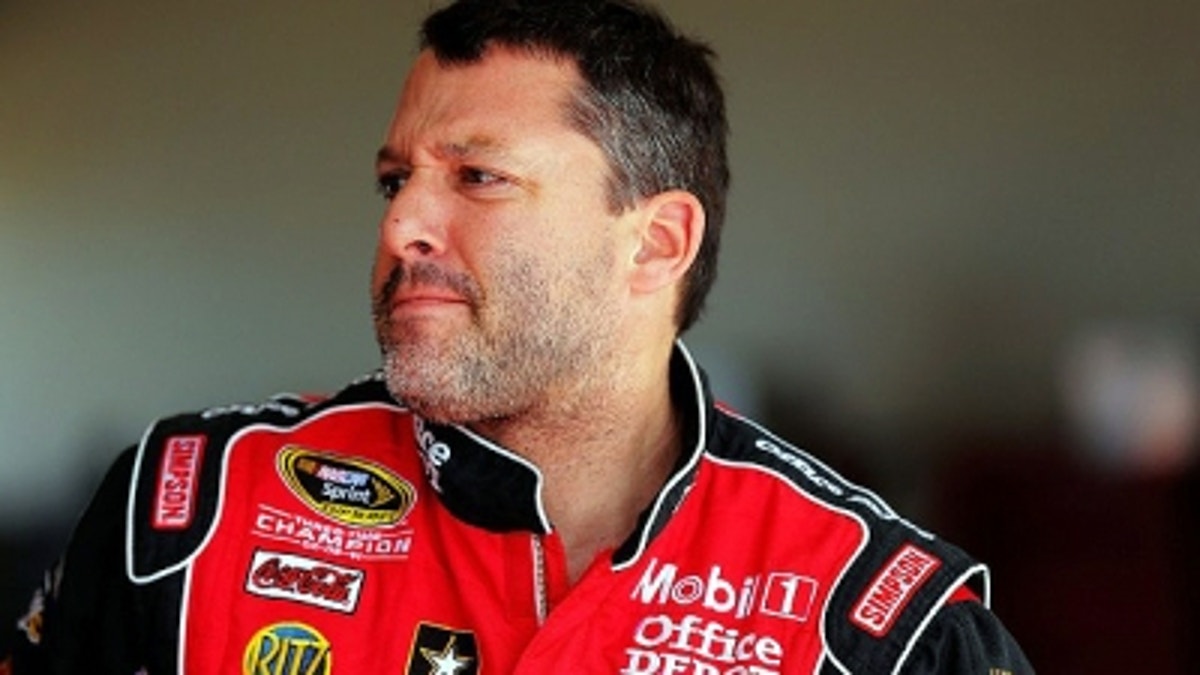 Tony Stewart didn't start off this year's Chase for the Sprint Cup with an opening-round victory like he did last year, but the three-time and defending NASCAR Sprint Cup champion is still a threat to go all the way again.
Stewart began his title defense on Sunday with a solid, but unspectacular sixth-place finish at Chicagoland Speedway, which left him third in points, just 8 points back of race-winner Brad Keselowski.
This week, the battle moves to New Hampshire Motor Speedway, where Stewart is the defending event winner and finished second in the other race there last year. Ryan Newman, who drives the No. 39 Stewart-Haas Racing Chevrolet, was also a winner at New Hampshire last year.
The flat, 1.058-mile New Hampshire oval is one of Stewart's better tracks on the NASCAR Sprint Cup circuit. In 27 career starts here, he has three race victories, 14 top-five finishes and an impressive average finish of 11.556. He's also led 1,180 laps at NHMS.
Stewart said he enjoys racing at New Hampshire, although the track is very challenging.
"Obviously, I like it because I've had success there," said Stewart. "But at the same time, it's a tough track to pass on. You can be a couple of tenths faster than a guy, but it still takes you 20 laps to get by him. There are other tracks on the circuit where it's hard to pass, but we still go out and put on good shows there, too. Every race at Loudon seems to be a pretty good race. So, I like it. I enjoy racing there even though it is hard to pass. But when you've got a good car, it's always fun to race."
Unfortunately for Stewart, he will not be able to run the same setup he had so much success with last year on his No. 14 Stewart-Haas Racing Chevrolet this time around.
"You've got to remember, they changed the tire for the spring race and we struggled with it a little," said Stewart, who finished 12th here earlier this season. "So, obviously, what we ran last year with this tire combination doesn't work, but I think we learned some stuff in the spring race that will help us."
That said, Stewart is definitely looking forward to this weekend's race.
"I've always liked the place," said Stewart. "I don't know that there's a real secret that we have there, it's something that — the way I drive the car, it's just a fun track, it's a track I always look forward to going to. It's not my favorite track, but it's definitely in my top three."
So this weekend, Stewart is ready to try to repeat last year's success.
"To start 1-2 and finish 1-2 in (the first NHMS) race last year, and then to come back in the fall and have Ryan (Newman) win the pole again and for us to win the race, it really doesn't get much better than that," Stewart said. "When you run that well someplace, you love coming back. We had … a dream year. Now, we'll just try and duplicate it."
Tom Jensen is the Editor in Chief of SPEED.com, Senior NASCAR Editor at RACER and a contributing Editor for TruckSeries.com. You can follow him online at twitter.com/tomjensen100.