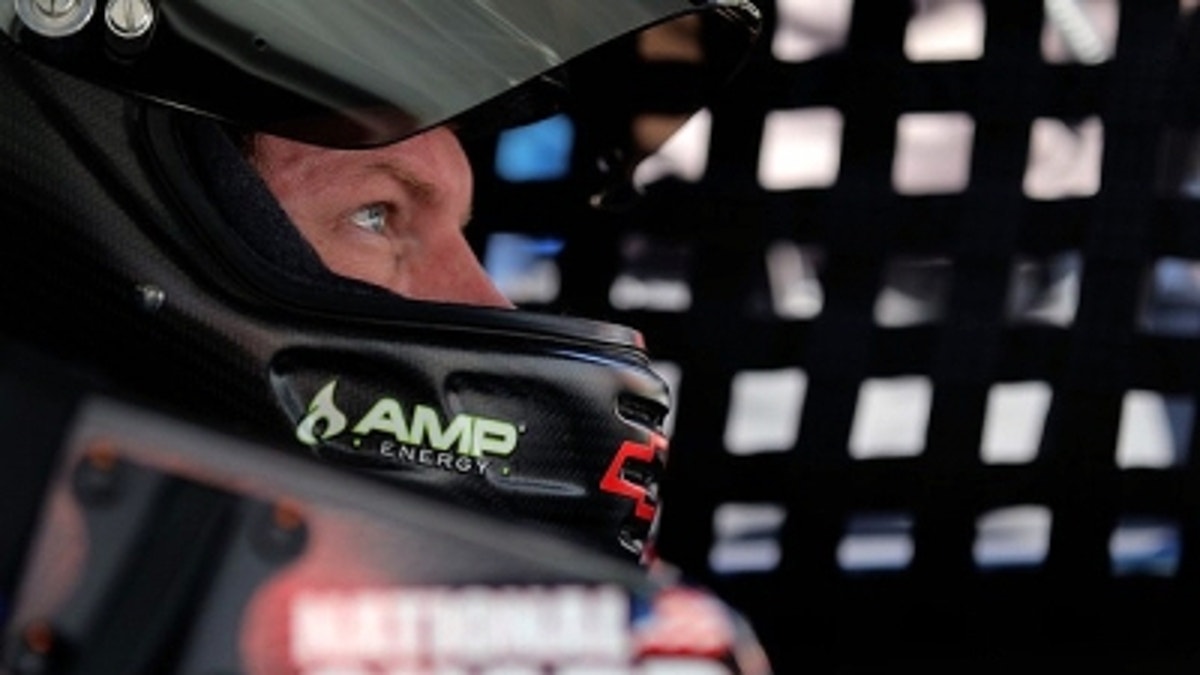 JUNIOR APOLOGIZES — The late Dale Earnhardt was known for moving drivers out of the way with his bumper, but when Dale Earnhardt Jr. put Mark Martin into the wall last Sunday at Las Vegas, it opened some eyebrows, since Junior typically isn't nearly as aggressive as his late father was. Today at Bristol Motor Speedway, Earnhardt Jr. served up an apology of sorts.
"Me and Mark handled our little issue immediately after we got home," said Earnhardt, who was frustrated because he felt like Martin held him up on track. "I feel pretty good that we got that sorted out."
Earnhardt said he was wrong to do what he did.
"To run into the back of somebody and put them in the fence for such a … it was a big deal to me at the moment … but overall on the grand scheme of things, it was kind of petty," said Earnhardt. "I put him in the fence for it, and that was kind of foolish of me."
LAST CHANCE — Next Tuesday, Hendrick Motorsports will have its final appeal of the penalties levied against the No. 48 team after Jimmie Johnson's car flunked pre-qualifying inspection at the Daytona 500. If the penalties are upheld, both crew chief Chad Knaus and car chief Ron Malec will sit out the next six races.
Friday at Bristol Motor Speedway, Johnson said it's business as usual for his team.
"We haven't made any changes," said Johnson. "We do have depth in our organization. We feel like if this next appeal, things don't change, we are not overly concerned because of the depth we have, but still we know how important this sport is along the lines of chemistry."
Johnson won championships in 2006 when Knaus was suspended for four weeks for a Daytona 500 rules violation and again the following season when Knaus was parked by NASCAR for six weeks for an aero violation. Still, the driver said it could be a huge loss for the team if the penalties are upheld.
"Chad and I have a great chemistry," said Johnson. "Ron Malec for that matter, the way Ron runs the team. If things stand it will be a huge blow to the team. I feel like we can work through it and still have a chance to win races, but it would be very difficult. Then you look at the points that are lost. Twenty-five points is a big number. It puts a premium back on winning and then you don't have your crew chief and car chief so winning is going to be that much more difficult. It's a double-edged sword. It's not an easy deal to go through. That is why we are fighting these appeals like we are."
HITTIN' THE SPOT — Everybody works hard at Bristol, and with 16-second laps the norm, the spotters are kept hopping, too, but they enjoy their work at the 0.533-mile oval.
"Spotting at Bristol is a lot of fun. It's actually easier than most people think," said Joey Meier, spotter for Brad Keselowski's No. 2 Penske Racing Dodge. "We always talk about the toilet bowl syndrome. Once everybody gets going in the same direction, they're all going the same speed from the roof. You lose the lack of perception of acceleration off the corners and deceleration in the corner. You lose all that. Everybody is going the same speed, which allows you from the roof to be able to pick up an incident that's getting ready to happen a little bit quicker."
Things can get out of control in a hurry, though, and often there's nothing that can be done to stay out of harm's way.
"The action here is obviously faster," said Meier. "The personality of the track is self-clearing. You know where the cars are going to go. If a crash happens in the corner they're going to go high and then they're going to go low.
"Unlike the flatter tracks, which are my nemesis, the Martinsvilles and the Loudons, because you don't know where they're going to go. They spin, sometimes they can go high and sometimes they can go low. Sometimes they can just sit in the middle and bog up, but there's smoke everywhere and you can't see it. Here, because we're on top, we can see through the smoke. We have good visibility. We have the best seat in the house sitting over in Turn 1. We're looking down on the racetrack at the roofs on these cars. I really love Bristol."
IS UP CLOSE TOO CLOSE? — At last week's NASCAR Sprint Cup race at Las Vegas Motor Speedway, race fans got to witness the pre-race drivers' meeting at the track's Neon Garage fan area. That was apparently a bigger hit with the fans than it was the drivers.
"I don't like it. I like the driver's meeting to be with the drivers and the crew chiefs, and about the race," said Dale Earnhardt Jr. "It has become less and less about that. It has to be cool for a fan to be able to have that kind of access. I think there is probably a way to give them that kind of access without going to the lengths that they went to at Vegas. I couldn't see those video screens. I really couldn't pay attention to what was going on. So, the meeting to me didn't serve its purpose."
"The more access you can give the fans is a good thing," added Matt Kenseth. "It doesn't bother you going to it but it hasn't been for a long time a true drivers meeting in the true sense of the word. Nobody is going to raise their hand and ask a question in that environment, not anybody these days anyway, maybe they used to … They have been letting more and more people in and I remember when we used to do it my first couple years in the series we did it in the scoring stand at Charlotte and you could barely get the drivers and crew chiefs in there. That is all it was. It was never a media event or fan event. It was a drivers meeting where there was a forum with discussions and stuff like that. We haven't had that in a long time."
ODDS AND ENDS — Daytona International Speedway is rebuilding the Turn 3 portion of the track that was damaged when Juan Pablo Montoya ran into a jet dryer during the Daytona 500. … Kurt Busch has signed a personal services agreement with Monster Energy Co. to become the newest Monster Energy Team Athlete, effective immediately. … Next Wednesday, Kentucky Speedway will unveil a new traffic plan designed to alleviate last year's disaster. … Speedway Motorsports Inc. Chairman and CEO Bruton Smith said he wants his company to build and operate a replica of the 14-mile Nurburgring test track in Germany. Only he wants someone else to pay for it, saying he doesn't have the money himself. Uh, huh.
Tom Jensen is the Editor in Chief of SPEED.com, Senior NASCAR Editor at RACER and a contributing Editor for TruckSeries.com. You can follow him online at twitter.com/tomjensen100.