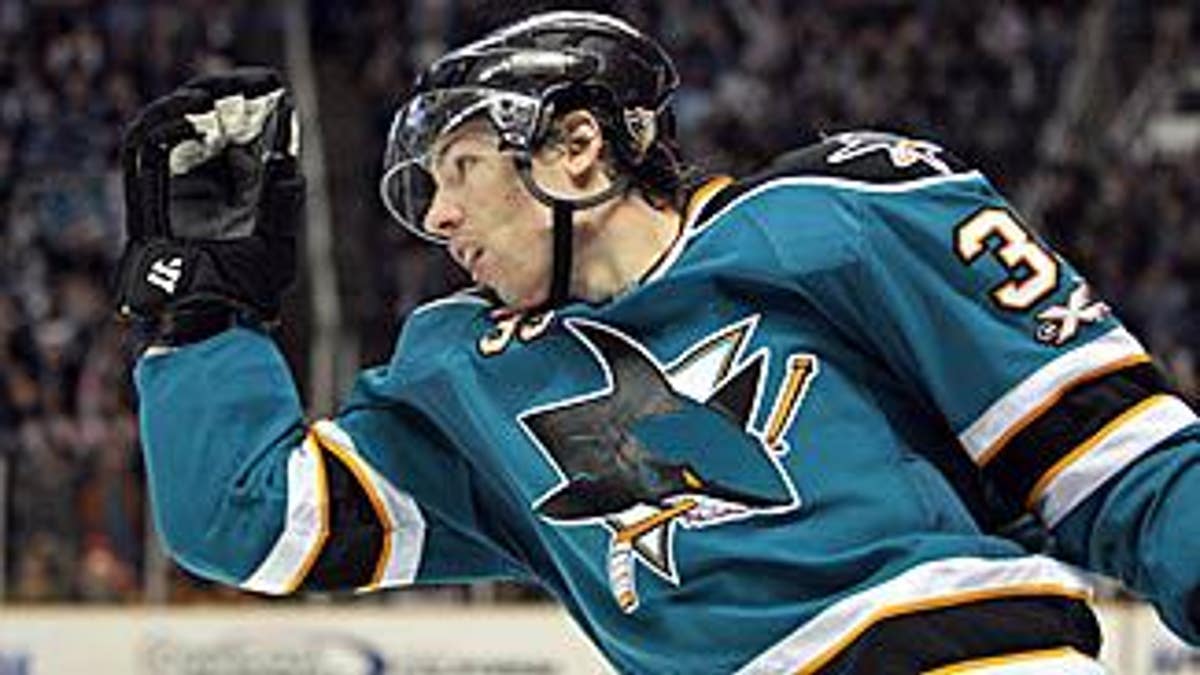 LOS ANGELES -- Logan Couture is thrilled with the opportunity to visit Las Vegas in June with his family after being named one of three finalists for the Calder Trophy, which is awarded to the NHL's top rookie.
"It's a big honor," the San Jose Sharks center said Tuesday at the Staples Center. "This year there were a lot of good rookies in the League, and to be named one of the top three is a great honor."
The other finalists are New York Islanders right wing Michael Grabner and Carolina Hurricanes center Jeff Skinner. The winner will be announced June 22 during the 2011 NHL Awards ceremonies from the Pearl Concert Theater at the Palms Hotel in Las Vegas.
"Only been once," said Couture, 22, who was the second-leading scorer among rookies with 32 goals and 56 points in 79 games. His 10 power-play goals and 8 game-winning goals were tops among first-year players. "I found out yesterday and I told my dad, and he was saying how he was already planning the trip out there. He's pretty excited. My whole family is pumped up.
"I'm sure once the season's over I'll reflect on it, but right now I'm just focused on the playoffs."
Couture and the rest of the Sharks will need to play a lot better Tuesday night in Game 3 of their Western Conference quarterfinal-round series with the Los Angeles Kings than they did in Saturday's 4-0 loss in San Jose.
Couture scored a goal in the Sharks' series-opening 3-2 overtime win, but neither he nor his teammates did much of a positive nature in Game 2.
"I think we need to get a lot better," he said. "Obviously in Game 2 we weren't good anywhere on the rink. Our power play was bad, the penalty killing wasn't good and we just didn't play the way we've played all year. We can get back to it tonight. We've been a good road team all year."
The Sharks' 23-14-4 road record, good for 50 points, tied for the sixth-best mark in the NHL in the regular season, though they went 2-3-1 in their final six road games. They were 1-0-2 at the Staples Center this season, with a 1-0 win and two shootout defeats.
Asked Tuesday if the Sharks performed so efficiently on the road because players weren't trying to impress their home fans, coach Todd McLellan had a sharp response.
"I don't think we have to impress anybody," he said. "How about impressing the guy that sits beside you in the locker room and the guy that's on your line? That'll be our goal right off the bat. I want our guys to go out and play the first two or three shifts and be able to come back and look at the guy beside you and say, 'You know what? I'm giving you everything I have.'
"Forget about impressing the fans and the road fans and the home fans. How about if we just play for each other here for a little bit?"
After watching plenty of video and emphasizing special teams play since Saturday's embarrassing loss, McLellan and the Sharks' players expect a much more competitive effort in Game 3.
The Sharks have gone 0-for-7 on power plays against the Kings in the series and allowed three goals in nine shorthanded situations.
"A lot of playoff series are won based on power play and penalty kill," McLellan said. "You may think I'm crazy, but I don't have as much concern about our penalty kill as I do about our power play. And yet, when you look at the game as a whole and you watch it again, we weren't very sharp from minute one on. Our execution was very poor 5-on-5. As a result, that carries over to special teams. We were stationary on the power play. We did work on it and we expect it to transform itself on the ice and we expect it to be better."
It was only one game, but the Sharks' ability to raise their level of play in the postseason already is being questioned by some.
"There's been some questions asked of our group over the last few days from the media, on the outside world, but more importantly from inside the locker room," McLellan said. "The passion to play and the commitment level should never be questioned at this time of the year, and it was after the effort the other day.
"There's only one thing we can do. We can go out and try and change that. We can try and have a much better input into the game and either prove people right or wrong."
White to return: Sharks defenseman Ian White will return to the lineup after missing Saturday's game to recover from the head injury he suffered in Game 1 when he was hit from behind by Kings center Jarret Stoll, who also will be back after serving a one-game suspension.
"I feel good, I'm ready," White said Tuesday. "The real test will be once I get out there at game speed and everything, but I practiced well and had a couple of days off to rest up. I had three days completely off and then I did a workout two days ago and I practiced yesterday. Everything feels good and I'm looking forward to getting back in it."
White feels lucky that he only missed one game.
"Really fortunate," he said. "You look across the League and at players who have sustained similar injuries, and for some guys it can end their career. You see guys missing big chunks of the season, so I'm really lucky not to have sustained much damage."