Coach Mike D'Antoni will meet with Lakers brass soon about his future after 55-loss season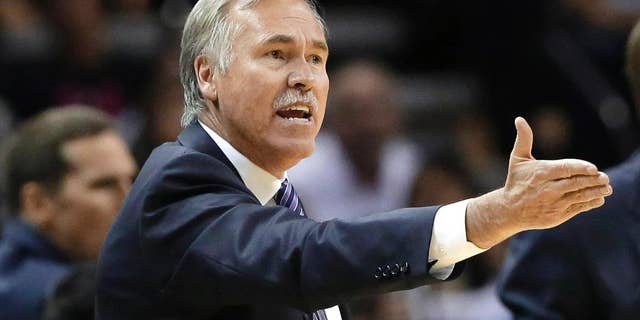 EL SEGUNDO, Calif. – Mike D'Antoni was still the Los Angeles Lakers' coach when he left their training complex Friday to spend the Easter weekend out of town with his family.
How long D'Antoni retains his job won't be decided at least until next week.
General manager Mitch Kupchak praised his embattled coach while the Lakers finished their final exit interviews following a franchise-worst 55-loss season.
D'Antoni will meet with Kupchak and Lakers owner Jim Buss in the near future to determine whether the veteran coach returns.
D'Antoni isn't disturbed or surprised by the scrutiny around him. He is 67-87 since taking over for Mike Brown early last season, and has occasionally clashed with stars Kobe Bryant and Pau Gasol.
Kupchak believes D'Antoni did well despite 319 man-games lost to injury.