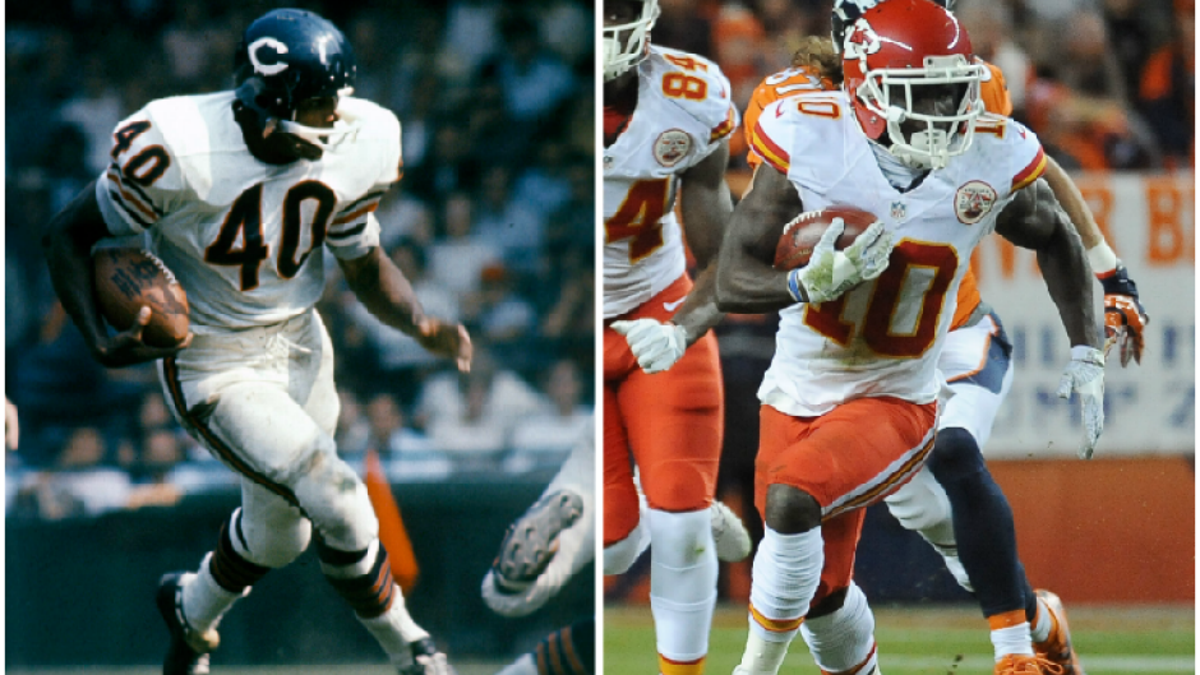 Kansas City Chiefs rookie revelation Tyreek Hill did it all on Sunday night in a performance not seen in the NFL since Chicago Bears Hall of Fame running back Gale Sayers victimized the Minnesota Vikings in 1965.
Let's call it the "Gale Sayers hat trick": a receiving, rushing and kick return touchdown. The Chiefs defeated the Broncos 30-27 at the end of an overtime thriller as Hill provided all three of Kansas City's touchdowns.
Hill, a fifth-round draft pick out of West Alabama (Division II) and Oklahoma State before that, ran a blazing fast 4.25 40-yard dash at his pro day. But since a groin injury has forced Chiefs wideout Jeremy Maclin out of action since Week 8, Hill has emerged as a weapon on offense.
The game looked like it would be a defensive battle (it still was, sort of) when Hill scored the first touchdown on an 86-yard kickoff return touchdown after a punt-kickoff that followed a Chiefs safety in the second quarter.
The 5-foot-10, 180 pound speedster scored his second touchdown in the third quarter when the Chiefs lined up in a Wildcat formation near the goal line and Spencer Ware handed it to Hill who barely escaped Von Miller's grasp, then got a couple nice blocks near the goal line and raced inside the pylon. Hill scored the final leg of the hat trick with just 12 seconds remaining in regulation on a play where officials initially ruled that Hill, after a short reception, was down just a foot shy of the goal line. Upon review, officials announced that Hill didn't control the ball until he indeed crossed the goal line.
The rushing touchdown was Hill's only ground attempt of the game to go with nine catches for 52 yards. When Sayers managed the feat, he caught two touchdown passes before adding a 96-yard kickoff return score and a 10-yard rushing touchdown in the fourth quarter of the October 17, 1965 game.
That's pretty excellent company for Hill, who has a fitting Twitter handle @ImFasterThanYa and did warn folks about this performance last Monday.