Chiefs top draft pick Mahomes is robbed but unharmed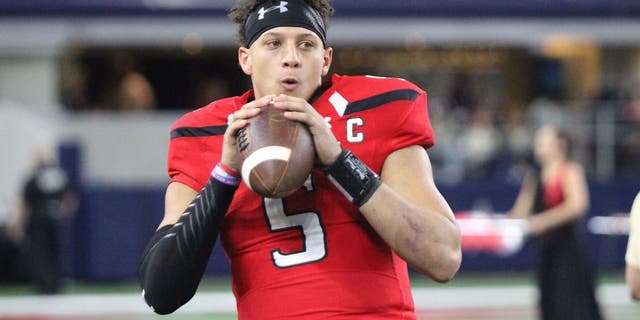 KANSAS CITY, Mo. -- Rookie Kansas City Chiefs quarterback Patrick Mahomes escaped injury after being robbed outside a Texas home after attending a college baseball game, authorities said Monday in describing the holdup as random.
Mahomes and the three other people were stepping from a vehicle on a home's driveway outside Tyler on Friday night when a suspect approached, gestured he had a handgun in his waistband and took unspecified items from the victims before speeding away, the Smith County (Texas) Sheriff's Office said.
Deputies later arrested two suspects in the reported getaway car and recovered items taken during the holdup. Michael Pinkerton, 34, was charged with aggravated robbery, while Billy Ray Johnson, 58, was accused of two counts of possession of a controlled substance and with tampering with evidence involving one of the items taken during the holdup, sheriff's Sgt. Darrell Coslin said.
It was not immediately clear Monday whether Pinkerton or Johnson had an attorney.
Coslin said Pinkerton "has a long criminal history and is known to us" and randomly robbed Mahomes and the others as the four returned to a residence after attending a baseball game at the University of Texas-Tyler.
"We have no reason to believe (Mahomes) was being targeted," Coslin told The Associated Press. "This appears to have been a crime of opportunity."
Mahomes, 21, played at Texas Tech and last month was selected by the Chiefs with the 10th overall pick in the first round of the NFL draft. Kansas City sent first- and third-round picks this year and their first-round pick next year to Buffalo, climbing from the 27th overall pick to acquire the heir apparent to veteran Alex Smith.
"I can't really get into the details," Mahomes told the Tyler Morning Telegraph. "I'm just glad me and my friends are safe and the cops got the suspects."
Last season, Mahomes threw for more than 5,000 yards and 41 touchdowns at pass-happy Texas Tech. He already has earned gunslinger comparisons to another protege of Chiefs coach Andy Reid during his days in Green Bay -- Brett Favre -- and his big arm and gaudy numbers have Chiefs fans energized after years of quarterback mediocrity.
Ted Crews, the Chiefs' vice president of communications, told media outlets that the franchise was aware of the robbery and "is thankful Patrick and everyone involved are safe because that's what's most important."
Mahomes' hometown, Whitehouse, is about 10 miles from Tyler and about 100 miles southeast of Dallas.