Celtics player Jabari Bird arrested after allegedly assaulting, choking and kidnapping person: police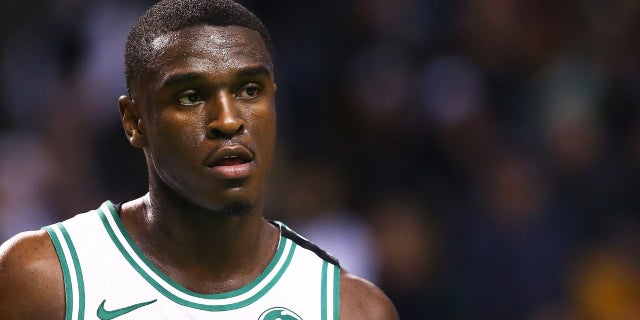 Boston Celtics guard Jabari Bird was arrested on Friday and is facing charges after what authorities called a "domestic incident" in which he allegedly choked, assaulted and kidnapped an unidentified person, the Boston Police Department said.
Bird, 24, was being guarded by police at a hospital and was undergoing evaluation after the incident on Friday in the city's Brighton neighborhood, police said on Saturday. The victim involved in the incident was brought to a different hospital to be treated for injuries sustained in the incident, police said.
JASON KIDD, RAY ALLEN, STEVE NASH LEAD GROUP OF 13 INTO BASKETBALL'S HALL OF FAME
"He is expected to appear in Brighton District Court on Monday, where complaints will be sought against him," Sergeant John Boyle, a spokesman for the Boston Police Department, said.
Police said complaints would be sought against Bird for assault and battery, strangulation and kidnapping. No other details were immediately released.
The Celtics said in a statement on Saturday that the team was aware of the incident.
EX-NBA STAR KEVIN GARNETT CLAIMS ACCOUNTANTS HELPED 'WEALTH MANAGER' STEAL $77M
"We are aware of the incident involving Jabari Bird and are taking it very seriously. We are actively gathering information and will reserve further comment at this time," the team said in a statement.
Bird, a second-round draft pick from California, spent most of last season with the Maine Red Claws in the G-League.
He appeared in 13 regular-season games for the Celtics last season, averaging 3.0 points per game.
The Associated Press contributed to this report.