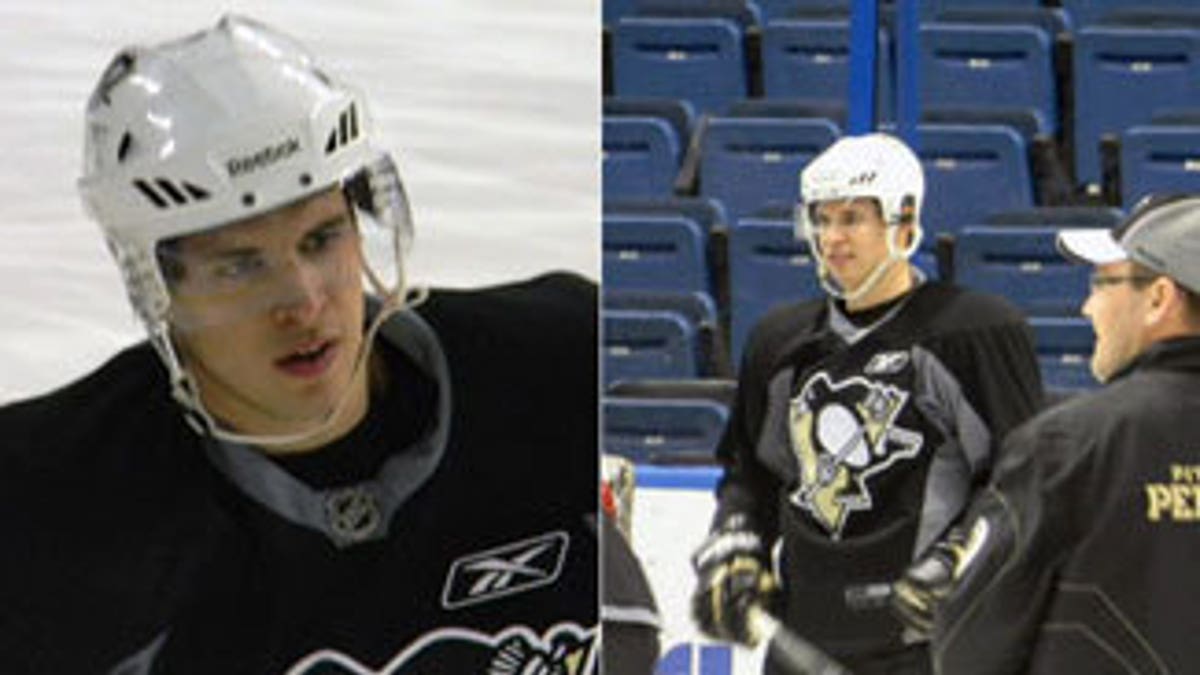 PITTSBURGH -- Sidney Crosby still isn't ready to return to the Pittsburgh Penguins' lineup, playoffs or not.
Crosby skated on a fifth line with Mike Comrie and Eric Godard during the Penguins' morning skate in advance of Game 2 of their Eastern Conference Quarterfinals series against Tampa Bay on Friday. But the Penguins' captain is not ready to take part in any drills with contact.
Crosby, out since Jan. 6 with a concussion, can't begin thinking about returning to the Penguins' top line until he first can absorb contact in practice. Even after he does that, he must be cleared by his doctors to play.
The Penguins have not speculated when that might be, and they have given no sign that he will play at any point during the Tampa Bay series.
Coach Dan Bylsma doesn't believe Crosby is pressuring himself to return sooner than he should.
Crosby wore a headset during Game 1 while sitting in the press box with assistant to the general manager Tom Fitzgerald and goalies coach Gilles Meloche.
"I have not sensed any kind of pressure on Sid that he feels, based on the fact it's playoffs or that it's this time of the year, to get back earlier," Bylsma said. "Actually he's more in tune with watching the games and what we can do and what adjustments are they making and those types of things. I haven't sensed anything to do with Sid trying to get back earlier, feeling that pressure, not one bit."
The Penguins, who won 49 games and accumulated 106 points despite playing half the season without stars Crosby and Evgeni Malkin (knee), won Game 1 against Tampa Bay 3-0 on Wednesday.
Crosby had a sizable lead in the NHL scoring race, getting 66 points in 41 games, before he was injured. He hasn't played since Jan. 5 against Tampa Bay.