Brock Lesnar gives his prediction for UFC 200: I'm well-prepared and dangerous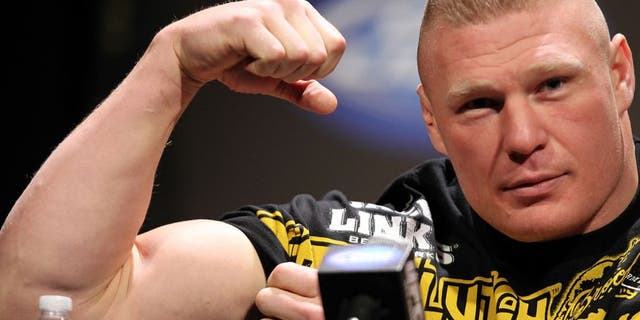 NEWYou can now listen to Fox News articles!
Some athletes go on and on during interviews, promising this or that, amping themselves up and, they hope, intimidating the world. Brock Lesnar isn't one of those guys.
The big man is returning to the Octagon on Saturday, when he faces Mark Hunt at UFC 200 in Las Vegas. Lesnar sat down recently with WWE personality Paul Heyman and discussed the only prediction that he's willing to make ahead of fight night.
"The guys who sit in this chair and can give predictions of what they're going to do and how they're going to do it, to me they are just blowing smoke," Lesnar said.
"My prediction is ... I'm just going to win. How that happens, I have no idea. I feel well-prepared. I'm excited. I'm calm before the storm. And, there will be a storm."
Lesnar has not competed in nearly five years and his fight with Lesnar, he wrestled in the WWE as recently as April and his fight with Hunt was just announced last month. So, it would seem virtually impossible that he's been able to truly focus on MMA fight preparation.
Even so, Lesnar assures that he's feeling prepared. He also seems to be enjoying himself.
"I feel great," he continued.
"I don't have to fake it. I'm coming into the Octagon very well-prepared, excited, and that's dangerous. I'll see you there."