Brian Kelly on coaching in NFL: 'I don't think it's tempting at all'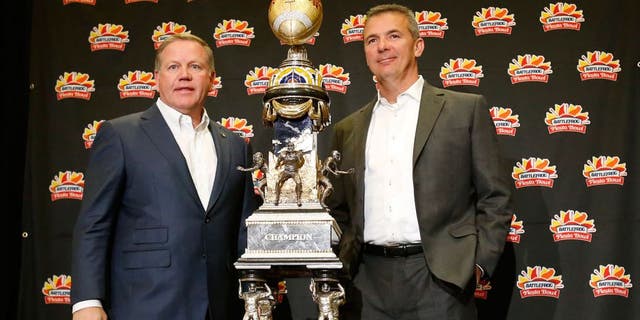 Notre Dame coach Brian Kelly and Ohio State counterpart Urban Meyer seem to be part of the coaching rumor mill every year, especially as NFL jobs open up.
Both know that is part of the deal when they reach the level of success they have as coaches, but that doesn't mean they don't tire of answering the same questions.
Asked this week if he ever allows himself to think about what he might be able to do as a coach in the NFL, Kelly replied, "Yeah, I don't think it's tempting at all. We get these questions all the time. I'm sure Urban gets them, as well. It's really not tempting at all. We're so focused on what we do on a day-to-day basis that we don't kind of sit around going, Boy, I'd like to coach in the NFL.
"We have our hands full on a day-to-day basis coaching the 18- to 22-year-olds. That takes up a lot of our time and effort. There's not a magical day where we wander around thinking about the NFL. At least I don't."
That the question came up the same week Chip Kelly, another highly successful college coach, saw his first shot at an NFL job end when he was fired by the Eagles, was surely not a coincidence.
"The success ratio of college coaches to the NFL, you know, I don't know that I've ever sat down and thought about that either, but if you're a ball coach, you can coach anywhere," Brian Kelly said. "There are high school coaches that are better than me. If you can coach, if you can teach, if you can educate, if you can motivate and organize, I think you can coach anywhere."
Meyer joked he would like to basically copy and paste Kelly's answer before adding a thought of his own.
"I spend very little time, especially this time of year, man, where there's so much going on, bowl season, recruiting, staff adjustments, those type of things going on, that I've never really spent much time thinking about it," Meyer said.
"Move on."