Brad Keselowski shows resiliency with runner-up finish at Kansas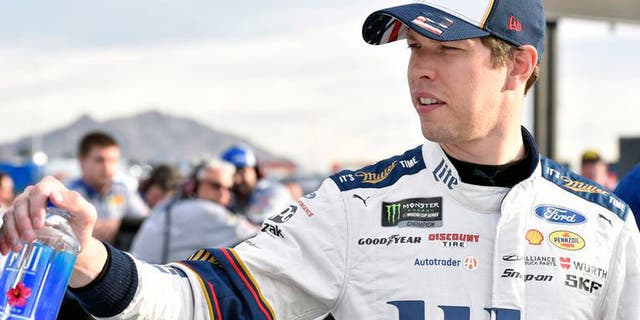 Like every Monster Energy NASCAR Cup Series driver at Kansas Speedway, Brad Keselowski wanted to win Saturday nights Go Bowling 400.
But considering where he was midway through the race, bringing his Team Penske Ford home second to race-winner Martin Truex Jr. was an impressive accomplishment for the 2012 series champion.
After qualifying 17th, his worst starting spot of the season, Keselowski worked his way up to fifth at the end of Stage 1.
Then, disaster.
On Lap 120 of the 267-lap race, Keselowski had to pit for a loose wheel. When he came down pit road, NASCAR penalized him for going through too many pit boxes prior to entering his own stall.
As a result, Keselowski rejoined the race two laps down, way back in 35th place. At that point, his prospect of a good finish seemed remote.
But he got one lap back when he took the wave around on Lap 137, and then got his second lap back between the last two segments. From there, it was game on, as Keselowski made a strong push forward.
By Lap 228, the No. 2 Team Penske Ford had cracked the top 10 and a series of three late-race cautions from Lap 245 on allowed him to quickly make up ground on restarts.
Afterward, the good and bad parts of the night seemed to leave Keselowski with mixed feelings.
We were really good all day and just never had a chance to show it, said Keselowski, who is third in points behind Kyle Larson and Truex. Every time we started to pass cars and cycle up to the front, we had some kind of issue, which was a real bummer to not be able to showcase the strength that we had.
Still, he was encouraged by his charge as the race wound down.
Towards the end, we were able to get some runs and make the most of it, and I think we went from probably 20th with 100 to go to second, which was a pretty big climb in the sport, said Keselowski. That's something to be proud of, but I kind of feel like I would have liked to have seen if it would have just played out normal, and I think we might have had a shot at him (Truex).