Boucher shines in relief for Flyers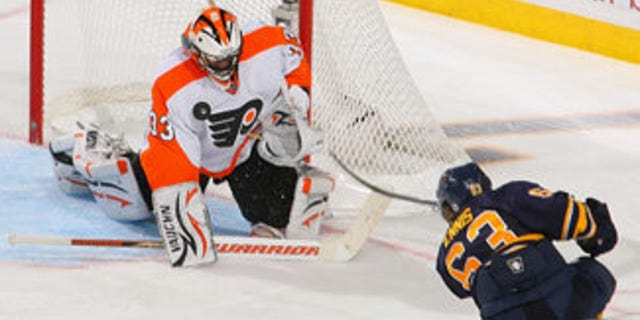 BUFFALO, N.Y. -- Philadelphia Flyers goalie Brian Boucher wasn't between the pipes when the puck dropped for Game 6 of this Eastern Conference Quarterfinal against the Buffalo Sabres, but the veteran stopped 24 of 25 shots and helped his club rally from a 3-1 deficit en route to a 5-4 overtime victory at HSBC Arena on Sunday afternoon.
Boucher, who was named the starter for Tuesday's Game 7 at the Wells Fargo Center, spoke with the media after the win.
Q: Was that game satisfying?
Boucher: We're here … I think it is. I think you're excited to live another day. We came here with a goal of trying to win a game to try to get it back to Philadelphia and we've done it, so it's pretty exciting.
Q: Were you disappointed when you initially found out you wouldn't be starting?
Boucher: Absolutely. I wanted to get the start. I felt like it's been a pretty good series aside from three minutes, for myself, but that was the decision that was made and you have to stay ready and I was able to get back in there and fortunately it worked out.
Q: How tough was it to stay focused?
Boucher: It's the Stanley Cup Playoffs. You think about your team needing you if that's the case, and we're all in it together and that's what kept me motivated.
Q: You said after last game that you wanted redemption. With your performance here, was that it?
Boucher: Maybe a bit, (but) the job isn't done. We want to win this series. Obviously that'd be the nice icing on the cake to get to the next round, but I guess from a personal standpoint, yeah, it feels good to have gotten back in there and I make wrong right, I guess.
Q: Do you think this swings the momentum to your side?
Boucher: I don't know, it's another one-goal game, it's hard to say. I think at times during the games in this series, there's been momentum. When we were down 3-0 and came back 3-3 in Game 5 and tonight down 3-1 and came back 3-3, maybe there's momentum. But I think once the game is over, momentum stops and you've got to start all over.