Boston Red Sox's David Ortiz Destroys Dugout Phones In Violent Outburst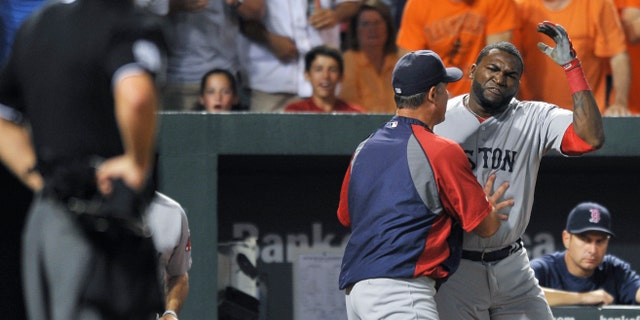 On a night when his teammate Stephen Drew used his bat to hit two homers and drive in five runs, David Ortiz took his best swings at a couple of dugout phones.
Drew revived the quiet Boston offense with a stellar performance, and the Red Sox beat the Baltimore Orioles 7-3 Saturday night in a game that featured a memorable and destructive tirade by Ortiz.
Starting for the sixth time since coming off the disabled list with a strained hamstring, Drew hit a three-run shot in the fourth inning and connected with a man on in the sixth. It was his second career two-homer game, and the five RBIs tied a career high. He came in batting .223 with five homers and 32 RBIs in 71 games.
"The past couple of games, I've felt good at the plate but had no luck," Drew said. "It's just good to turn around and have a good outcome. It was also a good win. That's what we really needed."
Boston had lost six of its previous nine to fall out of first place in the AL East for the first time in 60 days.
After Shane Victorino homered in the seventh to make it 7-2, Ortiz took three balls from Jairo Acencio before umpire Tim Timmons called a strike on a high fastball. Ortiz was furious, and he fully vented that frustration after taking another strike and then striking out with a futile swing.
He yelled at Timmons and was ejected. Ortiz then destroyed the covers of two dugout phones with his bat before charging onto the field, where he was restrained by manager John Farrell and bench coach Torey Lovullo.
Ortiz finally relented, but as a final gesture he threw an elbow pad in Timmons' direction. Teammate Dustin Pedroia, who covered up to avoid being hit by the spray of shattered plastic, finally got the enraged Ortizunder control.
"I got 17 years in the league and I don't think I deserve to be disrespected like that," Ortiz said. "You want to get respect from the players, you respect the players. That was horrible. Both of the pitches, not one.
"The funny thing is he wanted to act like it was the right call," Ortiz added. "I don't play that. I hit. You're not going to take my at-bats away."
The antics of "Big Papi" didn't detract from a much-needed victory against a strong division rival.
"We swung the bats great," Pedroia said. "It's a good win. We have to build on that. Guys get frustrated. It's part of the game. I just wanted to make sure David didn't get too bad where he gets suspended or any of that. ... He's the biggest part of our lineup. We can't afford to lose David for even one game."
Ryan Dempster (6-8) gave up two runs in 5 1-3 innings to earn his first win in five starts since June 30. His previous four starts were no-decisions.
Both of Drew's homers came off Scott Feldman (2-2), making his fifth appearance since coming to the Orioles in a trade with the Chicago Cubs. Feldman allowed four runs and six hits in five innings.
Baltimore's Chris Davis went 1 for 3 with a walk and two strikeouts, the 21st consecutive game in which the major league home run leader has struck out. He has fanned eight times in his last three games and hasn't homered since hitting No. 37 on July 14.
Boston went up 1-0 in the third when Drew singled and came home on a single by Jacoby Ellsbury. That provided a note of optimism for a slumping team that had produced only one run in its previous two games and came in with a 42-9 record when scoring first.
Feldman got two outs in the fourth before Mike Carp and Jarrod Saltalamacchia singled. Drew followed with his first home run since June 4.
"It really just came down to that fourth inning," Feldman said. "Gave up a couple two-out knocks and then made a bad pitch to Drew and he hit it over the fence."
Baltimore closed to 4-1 in the fifth on an RBI single by Brian Roberts, but another homer by Drew provided the Red Sox with a five-run cushion in the sixth. The drive hit the top of the wall in right field, and although umpires initially ruled the ball in play, they adjourned for a replay and ultimately called it a home run.
After the Orioles got a sixth-inning run on a grounder by Matt Wieters, Victorino homered on Asencio's first pitch of the night to make it 7-2 in the seventh.
J.J. Hardy singled in a run in the eighth for Baltimore.
Based on reporting by The Associated Press.
Follow us on twitter.com/foxnewslatino
Like us at facebook.com/foxnewslatino