Blues must keep Predators' defensemen in check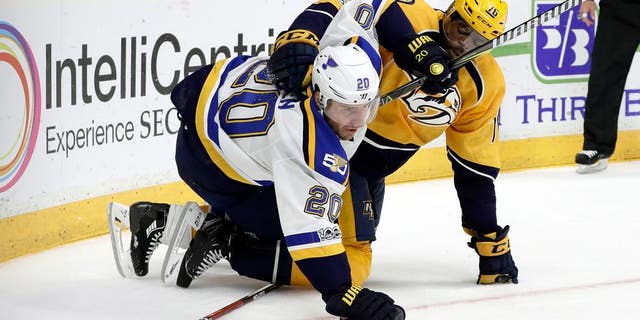 By taking care of matters in their end of the ice, the Nashville Predators' defensive corps is earning the right to contribute to matters on the offensive end.
That was evident again Sunday when the Predators bounced the St. Louis Blues 3-1 in Game 3 of their Western Conference semifinal at Bridgestone Arena to grab a 2-1 series lead. Ryan Ellis scored the first goal while fellow defenseman Roman Josi tallied the final marker.
P.K. Subban and Mattias Ekholm each registered assists, giving the blue-liners a combined seven goals and 14 assists in seven playoff games. Ellis has scored in six straight games and leads Nashville scorers in the postseason with eight points off three goals and five assists.
St. Louis is well aware that in Game 4 on Tuesday night, it will have to do a better job of accounting for the Predators' defensemen and their ability to produce points.
"We knew that was going to be a challenge walking into this series," Blues coach Mike Yeo said, "and obviously, that's a part of our game we're going to have to be better at."
Subban dominated Game 1 with three point blasts, leading to a goal and two assists in Nashville's 4-3 win. Ellis produced a goal and a helper in Game 2, staking the Predators to a 2-1 lead before St. Louis rallied in the third period for a 3-2 decision.
Nashville's skill on the backline came to the forefront throughout Sunday's game. The Ellis-Josi pairing and the Ekholm-Subban duo combined for 20 shot attempts, with Josi firing eight times on net.
"If we get a chance as a D corps, there are a lot of guys who can skate and we try to join the rush and make something happen," Josi said.
The Blues need to keep things from happening. Better puck possession would be one way. The Predators won 39 of 63 faceoffs Sunday, the second time in the series they dominated St. Louis in the circle.
More discipline is a second avenue to success. After avoiding the penalty box in Game 2, aside from a coincidental minor in the third period, the Blues took a half-dozen minors Sunday. Two occurred in the first 8 1/2 minutes of the second period when Nashville buzzed their zone at will.
"You're giving them and their skill players the opportunity to field the puck and make plays," St. Louis captain Alex Pietrangelo said. "They start to feel more confident. So I think that certainly makes a difference."
If the Blues can earn more possession time and keep penalties to a minimum, they could return to the formula that enabled them to control long stretches of Games 1 and 2 when playing five-on-five. Any deviation from that, particularly against an opponent playing at its best with a raucous crowd behind it,will create issues.
And chances are those issues willcome from Nashville's defensemen.
"The more you have the puck," Subban summed up, "the less defense you play."
Jasen Vinlove-USA TODAY Sports | Jasen Vinlove