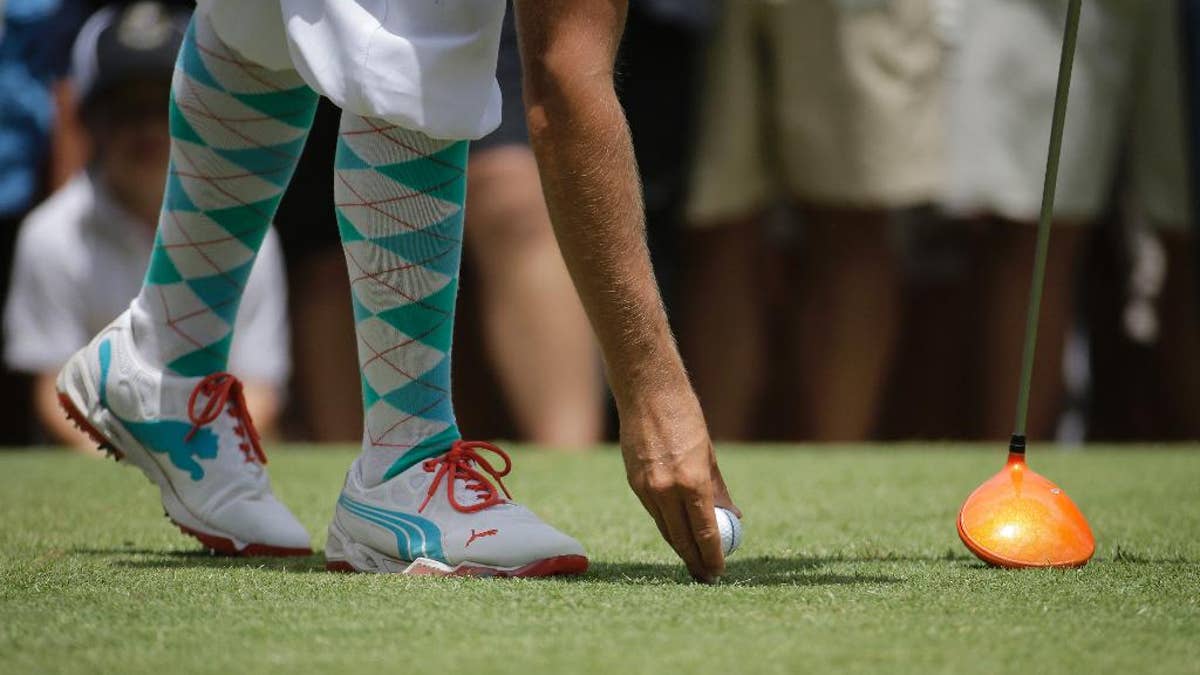 PINEHURST, N.C. – As Kevin Na missed week after week last year with a back injury, he kept an eye on this U.S. Open.
He thought his game would fit revamped Pinehurst No. 2. He figured its lack of rough might allow him to be more creative with his shots when missing fairways.
So far, he has been right.
"My caddie came and he said, 'We're going to the U.S. Open, no matter what, and we're going to have a chance there,'" Na said.
A few more rounds like his opening 2-under 68 during his morning round Thursday, and he'll have more than just a chance.
Na is the PGA Tour's No. 2 scrambler, at 66.95 percent. That's a key skill at a course that places a premium on a strong short game.
"If there was any major that I really wanted to play this year, obviously because I was so far down in the world ranking, it was the U.S. Open," Na said. "Because I felt like the course setup ... would suit very well for me. Here I am."
Na didn't officially make it into the field here until earlier this week, moving to No. 40 in the world rankings after his loss in a playoff at the Memorial. The USGA had set aside five spots for players who moved into the top 60 in the world.
"I knew I was in the U.S. Open," Na said. "I know how that system works, I know how the points work. ... It wasn't like whether I was going to be 59 or 58, so I was going to be well inside the number."
Now the goal is to keep it up.
Na missed the cut in seven of his 15 majors and his only top-10 finish came in 2011 when he tied for 10th at the PGA Championship.
"If I just keep playing my game, I think I'll have a good chance on Sunday," Na said. "Obviously, (Friday) is me being in the late afternoon, the course is definitely going to play a lot different. The course will play shorter, but the greens are going to be a lot more difficult to hit."
___
BUT NO TAM-O'-SHANTER: No, that wasn't Payne Stewart out there — just Rickie Fowler dressed like him.
To the delight of the galleries, Fowler wore white plus-four knickers and knee-high argyle socks — the same outfit that was the trademark of the late Stewart.
"Cool to be in the position I'm in to wear some attire like he used to wear, to give tribute to him," Fowler said. "Obviously, he had a special week here in '99."
Stewart still casts a long shadow here. He won the first U.S. Open held on this course in 1999, but died four months later in a private plane accident.
Fowler said he came up with the idea to dress in Stewart's traditional attire a few months ago but kept it under wraps. He said fans yelled everything from "nice knickers" to "Rickie Stewart."
The plus-fours were for one day only, however. He'll go back to his usual pants Friday.
___
NO FUN AT NO. 5: Henrik Stenson knows a brutal U.S. Open hole when he sees one.
The 15th hole last year at Merion Golf Club was one.
So is the fifth at Pinehurst.
"If you guys want to see some disasters, you should get a hot dog, Snickers and Coke and head down to 5 green," he said. "Because that's as hard as it can ever get."
The 576-yard par-5 hole features a dogleg to the left at the end, a slanted fairway with a downhill, sidehill lie and one of the trickier turtleback greens — the trademarks of this Donald Ross-designed course.
David Toms was 30 yards in front of the green in two shots. Five shots later, he was in for a double bogey.
"I hit it over the green, putted it back over the green ... just one of those deals," he said.
Told about Stenson's suggestion, Toms laughed. But he also made it clear that it still is in the player's hands.
"All I had to do was hit it 12 feet left of the hole, and instead I hit right at it. I knew better."
Stenson had a birdie on that hole Thursday after placing his bunker shot about a foot from the flagstick.
"But if it goes another foot, it's off the green to the other side," Stenson said. "That green, yeah, you're just happy if you get it to stay on the surface."
___
TEACHING A LESSON: Brandt Snedeker figures his old putter needs some discipline.
He's been loyal to his putters through the years, using only three "since I can remember."
It's time for No. 4.
Taking the unusual step of changing putters for the U.S. Open, he ditched his Odyssey and broke out a Bridgestone this week in his first swap since 2006.
"I did bring (the Odyssey) with me, but it's been stuck in the trunk trying to learn its lessons," Snedeker quipped. "Hopefully, it's learning."
Snedeker had been one of the PGA Tour's best putters, ranking second in total putting in 2012 and 22nd last year. He's down to 79th this year with an average of 186.3.
So far, it's worked: He had six birdies during his opening round.
"I thought I haven't been putting up to my standards the last six months, I felt like," Snedeker said. "And it's not a big change. A little different insert in it and just felt like it needed a different look. It worked great today."
___
Follow Joedy McCreary on Twitter at http://twitter.com/joedyap