At long last, Canucks have top six intact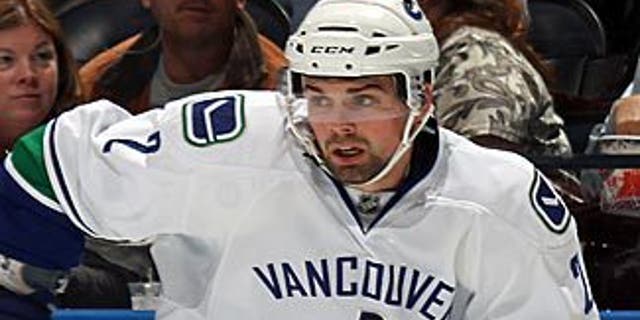 VANCOUVER, B.C. -- Last summer one of the points of emphasis for Canucks general manager Mike Gillis was to improve his defensive depth.
Gillis made a four-player trade to acquire Keith Ballard from the Florida Panthers, and then signed free-agent Dan Hamhuis to bolster his blue-line.
In July, on paper, it looked like a significant upgrade to the team, which was bounced for the second straight year, in the second round, by the Chicago Blackhawks. However, then came the injuries -- Sami Salo ruptured his Achilles tendon playing floorball in his native Finland, and the bad news mounted throughout the season.
In all the Canucks used 13 different defensemen on the blue-line including the likes of Evan Oberg, Ryan Parent and Lee Sweatt. It wasn't until game 82 of the regular season, in Calgary, that Vancouver had the six defensemen they hoped to start the season with all in the line-up.
"We've had 13 defensemen this year in our line-up and everyone's done a great job," said Ballard, who played in just 64 regular season games due to a knee injury and a concussion. "We have six guys that are playing that can do a good job and we've got eight guys right now on our team that are all very good defensemen."
Heading into the playoffs Vancouver will ice a top six, which includes the likes of Hamhuis, Salo, Kevin Bieksa and Christian Ehrhoff.
"Obviously we have battled some injuries and had other guys stepping up like (Aaron) Rome, (Andrew) Alberts and (Chris) Tanev stepping up for us back there," said Alexander Burrows. "At the same time when those six guys are healthy they're as good as anybody in the league and we're really happy to have them on our team."
Vancouver will start the playoffs with Rome and Alberts as healthy scratches.
The Blackhawks, who played against a depleted Canucks blue-line in their four meetings during the season notice the work Gillis did in the summer.
"You add a guy like Hamhuis, Ballard -- those guys are pretty good defensively and like to play physical too," said Patrick Kane. "It seems like they've done a pretty good job of adding players over the off-season.
"Hopefully we can use their speed on them, try to play in their end, and make them work."
Chicago arrived in Vancouver late Monday and skated for the first time at Rogers Arena on Tuesday. Both Troy Brouwer (shoulder) and David Bolland skated in full practice, but neither skated in the top 12 forward group.
"I still feel a little bit of haziness," said Bolland, who has been sidelined since March 9. "You're going to have your ups and downs, you're going to have the rollercoaster. It's just whenever I feel great, whenever I feel ready."
Brouwer told the media that he felt better and that it would be up to the coaches when he got into the line up.