Asdrubal Cabrera & Chris Perez Help Indians Become Talk of Town in Cleveland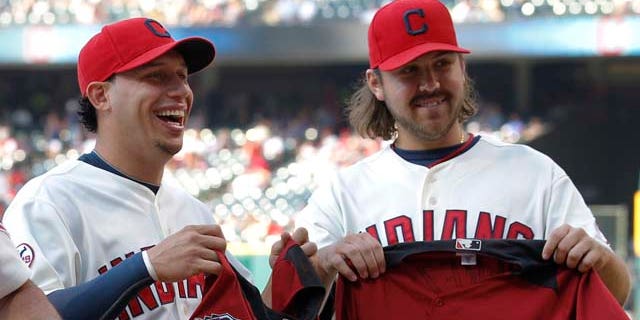 PHOENIX – The three of them sat in a row at individual tables Monday afternoon, talking to anyone who approached them about being first-time All-Stars.
Plenty of the questions, though, were not about Tuesday's All-Star game – but instead about the resurgence of Cleveland Indians baseball.
It seems fitting – and symbolic – that shortstop Asdrubal Cabrera, closer Chris Pérez and manager Manny Acta are the ones to represent the Tribe at the 2011 MLB All-Star Game. Indeed, they are three major reasons Cleveland is in contention this season, and three key pieces of the puzzle that has come together faster than even they expected.
Cleveland. Contention. Those two words haven't been juxtaposed since 2007, when the Indians fell to the Boston Red Sox in the American League Championship Series after winning the AL Central title. Before that, the glory years of the franchise were 1995 to 2001, when Cleveland won six division titles, went to two World Series and sold out Progressive Field (then known as Jacobs Field) for 455 straight home games.
"The fans' excitement is back," said Acta, the manager since 2010 and a member of the AL coaching staff. "Our attendance shows that. It's early, we're enjoying every minute of it. At the beginning it was tough because of the weather conditions (in April) and also because two or three weeks of baseball is not going to convince people of the product we put on the field.
"But once people over there have seen this going on for 3 ½ months, they do like the product on the field," Acta added. "We do have guys that get after it and that's what people in Cleveland like. We have a blue-collar team just like the town. We get out there and leave it all on the field. The fans are back…quicker than some people have anticipated because we have a young club."
After back-to-back fourth-place finishes in the five-team division, the Tribe is 47-42 at the All-Star Break and a half-game behind the Detroit Tigers for the division lead.
Starting on April 7, Cleveland was in first place or tied for it for all but two days until this past Sunday, and once had a seven-game lead in the standings.
Acta guided the club to a 35-39 record in the second half of last season, when signs that the Indians were headed in the right direction first appeared.
For his part, Cabrera, a solid-fielding and perhaps even better hitting infielder, is batting .293 with 14 home runs and 51 runs batted in, tops among AL shortstops.
And Pérez, 25, has 21 saves and a 2.43 earned-run average.
"I've always said there are very few geniuses in this game," said Acta, 42, when asked to reflect on his managerial past, which includes a short stint with the Washington Nationals where he went 158-252 from 2007 to 2009. "All of us at some point are as good as our rosters. I do have a pretty good ball club right now. A lot of kids that are talented and have high character, and our pitching staff has done a tremendous job."
The Indians have been bolstered by the return of outfielder Grady Sizemore and catcher Carlos Santana from injuries last season. They also added veteran second baseman Orlando Cabrera, who is valued as much for his guidance of Asdrubal Cabrera, 25, as his play.
Orlando Cabrera likes to call Asdrubal – no relation – his "nephew."
Asdrubal Cabrera explained in Spanish that he's not surprised at how well the team is playing.
"Since spring training we've had a team that has been together and united," he said. "We have the talent to give it all and win. I can't say I know we'll win because there's still a lot of season left, but we're going to fight to get there at the end."
Cabrera arrived from the Seattle Mariners organization in a 2006 trade for journeyman Eduardo Pérez. Now he's the starting shortstop for the AL in Tuesday night's All-Star Game, batting second.
"Eduardo Perez for him?" said Chris Pérez of Cabrera. "It's great. That's what we have to do in our market, is hit those kind of trades and not miss on those trades and maybe find those diamonds in the rough that guys have thrown away or given up on."
Chris Pérez says the team's attitude has been the biggest key to the Tribe's success.
"We're a young team," Perez said. "We have fun and we enjoy going up against the older, more veteran teams and beating them. The White Sox, the Tigers, the Yankees. We're trying to make a name for ourselves, the younger guys. We enjoy when the Yankees come into town. We can tell because our media (coverage) doubles and we know that. We enjoy beating them."
Cleveland is winning with pitching, defense and timely hitting, but might not stand pat when it comes to making a move to improve the roster after the break. The starting rotation needs some help with 2010 All-Star and 2011 Opening Day starter Fausto Carmona struggling, and Acta said he feels he needs a right-handed bat to help fill the gap created by the injured Shin-Soo Choo until the outfielder can return.
Whatever the team decides to do at the trade deadline, Cabrera, Pérez and Acta have helped the Indians get off to the type of the start that has Cleveland buzzing again.
"Our fast start just got all the young guys confident," he added. "That's what you need in this game, confidence. We know how our fans are and how difficult it is to get interest around us… the bars are always full watching us but the stadium isn't. We had walk-offs (wins) and exciting baseball, and they've come out now."
José M. Romero, a freelance writer for the Associated Press, FoxSportsArizona.com and several other sports web sites, has covered Major League Baseball, the NFL and Major League Soccer. He is based in Phoenix, Ariz. Follow him on Twitter: @mividadeportiva.
Follow us on twitter.com/foxnewslatino
Like us at facebook.com/foxnewslatino