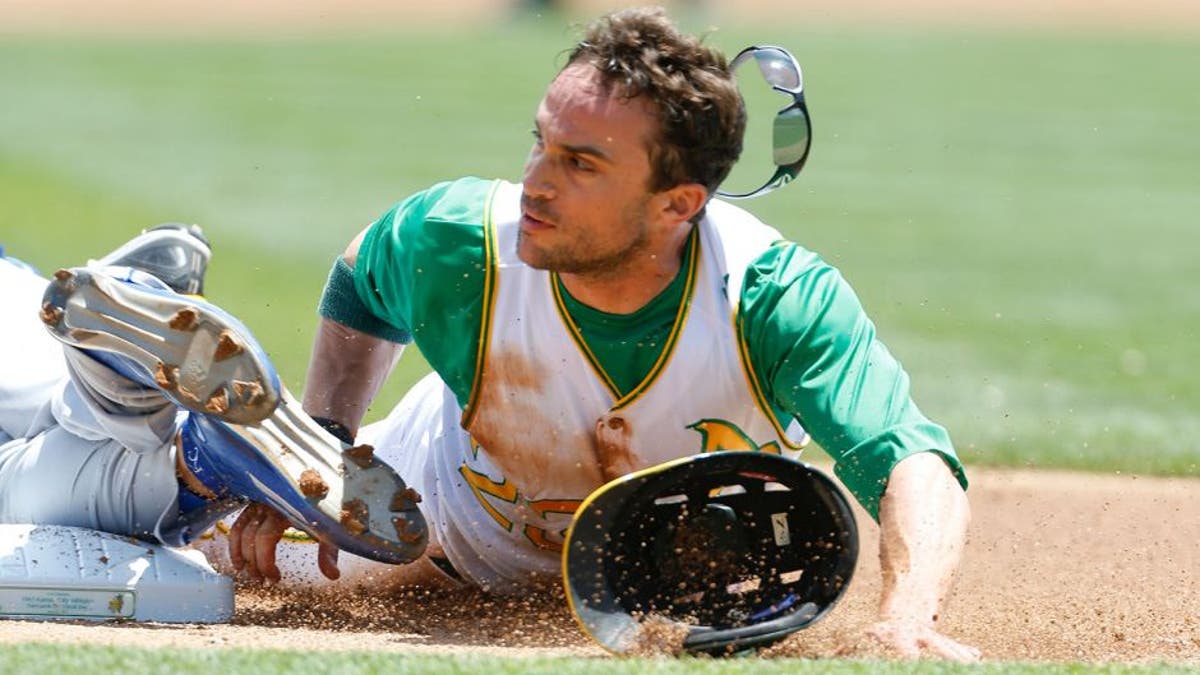 Sam Fuld jogs to the outfield each inning with enough gum in his back pocket to give him a quick boost of carbohydrates if his blood sugar dips.
He might experience dizziness or feel weak. That's how he knows.
"It's just a crummy feeling," he said. "You get a little irritable."
After nearly eight years in the majors, Fuld has learned to count his carbs and determine his insulin without nutritional labels on much of the clubhouse food from ballpark to ballpark, city to city.
A Type 1 diabetic, diagnosed at age 10, his body requires constant attention all day long to stay in top form for the Oakland Athletics.
"There are a lot of ways it challenges you. I've always looked at it as a challenge to do whatever I would do otherwise if I didn't have it. Getting to where I am as a baseball player is extra rewarding given what I have to go through. It's changed over the years. I think there used to be more of a negative stigma attached to it or this idea that you can't do things like sports. If you're on top of it, you certainly can, but it just requires a lot of work."
For the A's annual Root Beer Float Day on Wednesday, Fuld served up his own sugar-free version made for those who need to control their blood sugar levels: with Zevia, an all-natural stevia and monk fruit sweetened soda.
Oakland holds the event each year to raise money and awareness for juvenile diabetes. The A's raised $34,709 on Wednesday for the Juvenile Diabetes Research Foundation to bring the total to more than $448,000 over the 16 years of the event.
The 33-year-old Fuld still discovers new obstacles dealing with his disease even after two decades learning to live managing it.
"It's ongoing, it's not just before meals, it's before everything," Fuld said. "You have to be aware of everything you eat, the amount of insulin you need and other variables like exercise and stress. I've been doing it for 23 years now and still every day is new and challenging. I try to eat things that I have a good idea of the carb content and the fat content. It does involve a lot of guessing at times."
A's manager Bob Melvin knows all about it. His daughter, Alexi, has Type 1 diabetes.
Melvin reminds Fuld before a day game to make sure his blood sugar is high enough. There haven't been any episodes since Fuld joined Oakland at the trade deadline last summer from Minnesota.
"He does a great job with it, too. He's been a great resource for any athlete who's dealing with juvenile diabetes," Melvin said. "It's remarkable, really, for a professional athlete to be able to deal with it. I see what my daughter has to go through every day. ... It's a definite lifestyle. You have to be tough-minded because it's a difficult thing. It's pretty amazing to be able to do what Sam Fuld does."
Alexi Melvin posted a reminder about the A's root beer float day on her Twitter account:
Fuld, who wasn't in the lineup Wednesday night for the middle game against Toronto, is batting .207 with a home run, 11 doubles, a triple and 14 RBI in 78 games for the A's.
"I get asked the question a lot, `Well, you must have it sort of figured out by now?' No," Fuld said. "There are so many different variables that go into it. Yeah, I certainly have a better grasp of it now than I did when I was first diagnosed. So many things change on a day-to-day basis. You're used to the constant mental stress that it involves. The blood, the finger pokes and the insulin shots are the easy part. It's the mental battle that's most grinding."