Alex Rodriguez Gets Surprising Support From Boston Red Sox David Ortiz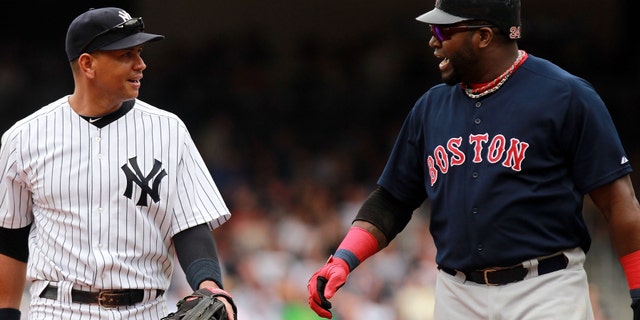 Big Papi has known to lash out at a dugout phone or two. But when it comes to using baseballs as a weapon that's a line he'll never cross.
After his Boston Red Sox teammate Ryan Dempster intentionally hit Alex Rodriguez Sunday, David Ortiz says he is siding with the embattled New York Yankees player.
"I didn't like it. I don't think it was the right thing to do,'' Ortiz told USA TODAY. "But we don't all think alike, and the guy who did it, Dempster, is a great guy. It's not that I didn't think it was right because Alex and I are friends, because once you cross the white lines, everyone's on their own.
Rodriguez got hit by a fastball from Dempster in the second inning Sunday night, setting off an angry scene at Fenway Park and leading to the ejection of New York Yankees manager Joe Girardi.
Ortiz spoke out about the incident after some have said Dempster was purely retaliating against Rodriguez for poisoning baseball's reputation through his drug out his fight out with the MLVB over his 211-game suspension for his involvement in the Biogenesis case.
Unlike many of his teammates, including Boston pitchers John Lackey and Jon Lester who believe Rodriguez should not be allowed to play while serving his suspension, Ortiz has been one of the his lone supporters that does not wear Yankees' pinstripes.
On Tuesday Dempster was suspended five games by Major League Baseball.
Yankees manager Joe Girardi insisted it would be "open season" on Rodriguez if MLB failed to suspend the pitcher for hitting the star slugger with a pitch.
"That baseball is a weapon. It's not a tennis ball. ... It's a weapon, and it can do a lot of damage to someone's life," Girardi said Tuesday before the Yankees played a doubleheader against Toronto.
"And that's why I was so upset about it. You can express your opinion and be upset with someone, but you just can't start throwing baseballs at people. I mean, it's scary."
Follow us on twitter.com/foxnewslatino
Like us at facebook.com/foxnewslatino