Ahead of Euro semifinal, a bond forged amid Paris attacks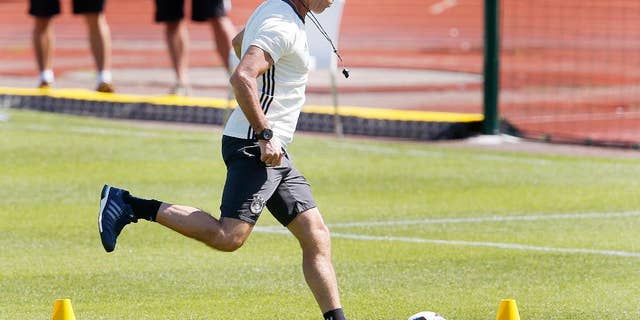 NEWYou can now listen to Fox News articles!
MARSEILLE, France – As his Germany team prepares to face France in the European Championship semifinal, coach Joachim Loew has paid tribute to a bond between the teams forged amid the chaos and bloodshed of November's Paris attacks.
Explosions rang out at the Stade de France when three suicide bombers detonated their devices near the stadium during the last meeting between the teams, a friendly on Nov. 13. It was part of a wave of gun and bomb attacks across Paris which left 130 people dead and many more wounded.
France and Germany played out the game as news of the attacks filtered through to the shocked spectators, who gathered on the field after the final whistle, fearful of leaving the ground. French President Francois Hollande was spirited out of the stadium by security officials to coordinate the government's response.
With the German team unable to return to their hotel, the French players decided to stay at the stadium, keeping their opponents company for several hours.
"It was very positive that the French, on that night when we were in Paris, gave us full support," Loew said Wednesday. "They delayed their departure and waited until we were also out of the stadium. They really cared about us."
"That obviously shows a fundamentally very, very good relationship, also between the players, who know each other, some of whom play together (at club level)."
Despite Loew's gratitude to the French for their help in Paris in November, he added that the bond between the teams would not influence the European Championship semifinal.
"The rivalry on the pitch tomorrow in the semifinal is obviously enormous," he said. "Both sides want to get to the final, so of course I don't think this will play a role tomorrow."
The score of the Nov. 13 game, a 2-0 win for France, was almost an afterthought. Still, it means Germany has only won twice against France in eight meetings since Germany was reunified in 1990.
However, the Germans took victory in the only competitive game in that era, winning 1-0 with a Mats Hummels goal in the 2014 World Cup quarterfinals on the way to being named world champions.