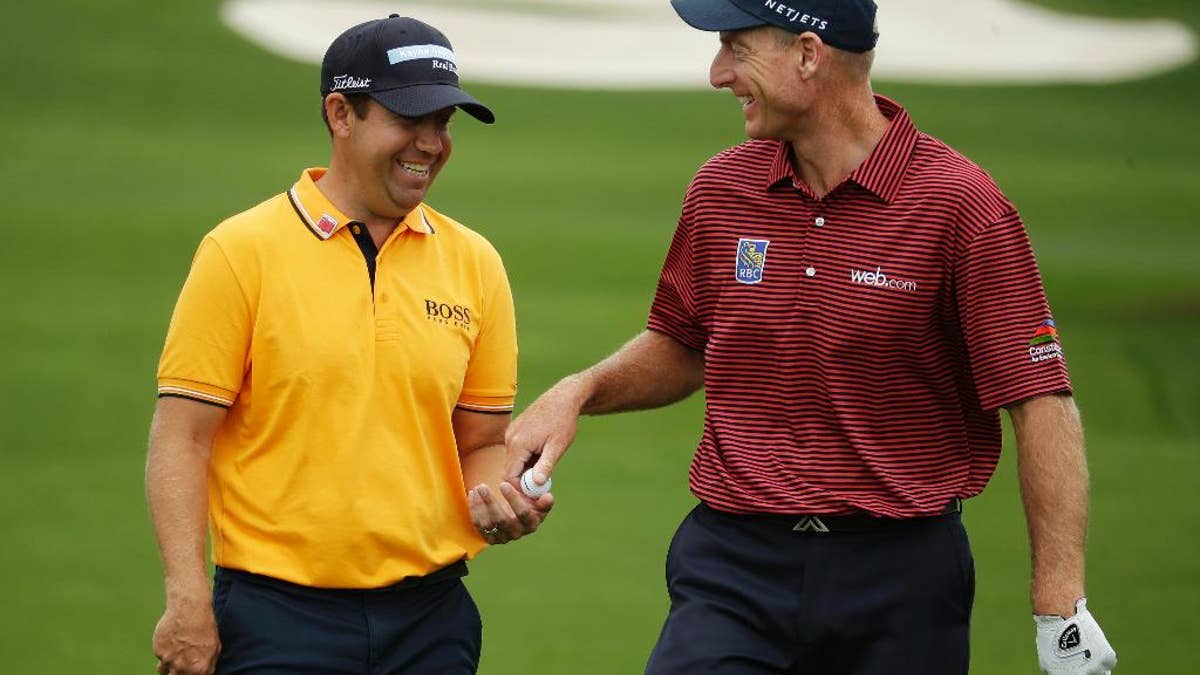 AUGUSTA, Ga. – We're suckers for athletes who play with a lot of heart. In Erik Compton's case, make that plural: hearts.
He'll tee off this week at the Masters on his third.
The 35-year-old veteran would rather be known for his golf than what he's had to overcome to earn a spot in the field. But Compton isn't shy about sharing his story, either.
A first heart transplant at 12, then a second in 2008 after a major heart attack — what doctors call a "widow-maker" — while driving home from a lesson with longtime coach and close pal Charlie DeLucca. He's been trying make up for lost time ever since.
"It's hard, but it's also a great thing," Compton said Monday after a practice round at Augusta National. "There's two sides to me. I'm a competitor and a sports person, and I'm also the recipient of two transplants, and I know what that involves. So when you put them together, it does make a little bit of spaghetti in my mind sometimes you know," he added a moment later, "I'll take it."
It's not like Compton had a choice. He recovered from his childhood setback to become the No. 1-ranked junior in the United States at 18, then a two-time All-American at Georgia. But he's spent most of the intervening years battling on minor league circuits, then becoming an advocate and spokesman for Donate Life, an alliance for national and local groups raising awareness about organ and tissue donation.
In a nice bit of serendipity, his first appearance in the Masters coincides with Donate Life Month. But it's already a full-time campaign for Compton — he's been displaying the organization's logo on his shirt sleeve for a while. All of those efforts paid big dividends last year, when he carved out a spot on the PGA Tour and nearly stole the show at the U.S. Open.
His runner-up finish at Pinehurst nudged Compton and his story into the spotlight — and earned him an invitation to Augusta. It was something he'd longed to do since watching the tournament on TV as a kid.
"For me, it was a bit difficult to watch so many years and think, I'm never going to play in the Masters, just because of other issues that I've had. But yet, I just love to watch the Masters. So it's going to be weird," he said to laughter, "not watching the Masters this year."
Compton's wife, Barbara, and parents Peter and Eli won't be tuning in this year, either, making the drive up from Florida to watch Erik play in person. It's a well-deserved reward to be sure, since all of them had a hand in the push-pull climb toward the top of the golf hill.
After walking most his son's practice round, Peter Compton recalled how motivated Erik was, no matter how tough things seemed. Six months after Hurricane Andrew hit the Miami area in 1992, forcing the family out of their home and into temporary housing alongside a golf course near Doral, he took his son to play a few holes.
"We were in a cart and back then, he liked driving more than playing," Peter recalled. "But every time we'd leave the tee, he'd drive to his ball, and he was already hitting it 225 (yards) or so. So finally, about the third time it happened, I had to remind him, 'Hey, stop here. Let me play MY tee shots!'
"He started playing junior tournaments in the area after that and a lot of the fathers would come up and tell me what a terrific story it was," Peter said. "But it wasn't long after that Erik started winning those tournaments. ... He could have sat back, said he'd been dealt a bad hand and did nothing. So I think that's what we're most proud of — he refused to give up."
Compton tries to strike a delicate balance between those accomplishments and his aspirations. After a promising 2014 campaign on the big tour, his breakthrough performance at Pinehurst — only the second major he qualified to play. But Compton struggled this year, opening the 2015 season with a tie for 10th. He then wrestled with his driver and missed the cut in his next five tournaments.
At the moment, most of his energy and focus are devoted to keeping the ball in play
"I'm here in the press room at the Masters, and that's a great thing," he said. "But I don't look at myself as somebody who is a role model ... I look at myself as a golfer who has used golf as a means to maybe put some of the tough stuff that's happened to me in the past. Golf's been very therapeutic for me over the years.
"As I'm sitting here today," Compton concluded, "I view myself as somebody who is going to try to do the best he can to compete in the Masters."