Adebayor and Tottenham part ways by mutual consent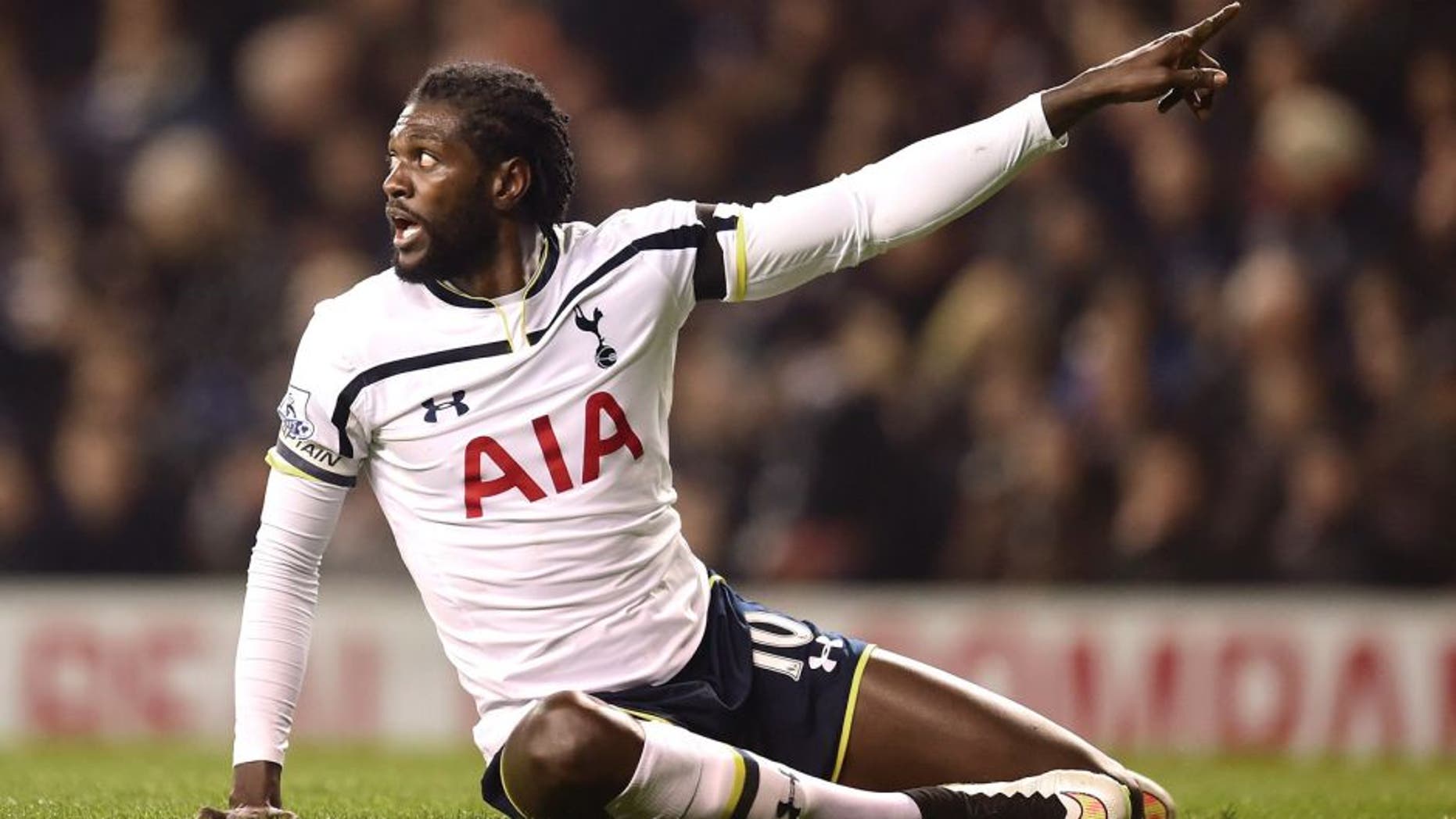 Tottenham have released striker Emmanuel Adebayor from his contract at the club by mutual consent.
The 31-year-old's deal with Spurs ran until the end of the season but he has not played for the club yet this term and was left out of both their Premier League and Europa League squads.
Adebayor released a statement which said: "I can confirm that I have reached an agreement with Tottenham Hotspur to terminate my contract.
"I wish to thank the club and the fans for my time there and I wish them well for the forthcoming season."
And a statement on Spurs' official website on Sunday morning said: "We can confirm that we have reached a mutual agreement with Emmanuel Adebayor which will see him released from his contract with the club.
"We wish Emmanuel well for the future."
Adebayor was linked with a move away from Tottenham when the transfer window was open but ended up staying at White Hart Lane.
However, Tottenham manager Mauricio Pochettino said on Friday that he had informed Adebayor that he did not have a future at the club.
"I was very clear with him, we had a conversation before the end of last season and I explained my idea," said Pochettino.
"I think it is clear he is not in my mind or in the plans for the future of Tottenham.
"It is not a problem for him or a problem for us.
"It was clear from the beginning three or four months ago and it was his decision whether to stay or not.
"We are always available to help him, we have a good relationship. The only problem now is to find a solution for him and a solution for the club, something that is good for both sides."
Former Arsenal frontman Adebayor had been with Spurs for four years after initially signing on loan from Manchester City for the 2011/12 season.
He scored 18 goals in that campaign and made the switch permanent in the summer of 2012.
Last season - Pochettino's first in charge at Tottenham - Adebayor made only 17 appearances in all competitions, netting twice.
Adebayor almost joined Aston Villa in the summer transfer window and that move could now be revived.
Villa manager Tim Sherwood worked with Adebayor at Tottenham and recently confirmed he remained interested in the forward, saying: "I would not hesitate. If he had the desire to want to come and play football again, I would have taken him in a heartbeat,"
"We still have to respect his decision, whatever he makes. It's his - I can't influence it.
"Am I disappointed? I'm disappointed for him because he's not going to play. He's too good a talent - I've seen that first hand - to not play any football, but unfortunately I don't think there's any window open for him now.
"If he wanted to play in Qatar, he would have gone there a long time ago. It's hard to say. I was going to say he's not in it for the money but, genuinely, he wants to play at the top level.
"It's not financial. It's easy to say that when you're on his money, but he would genuinely play for nothing. It's not his fault he's not part of their plans."