Aaron Rodgers says 'mindset of players' is NFL's biggest obstacle in solving concussions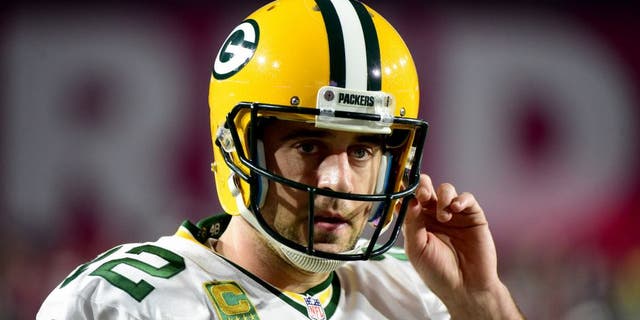 NEWYou can now listen to Fox News articles!
NFL fans and "Bachelorette" viewers alike tuned in to HBO's latest Any Given Wednesday episode to see whether Aaron Rodgers would address his younger brother Jordan's remarks about how Aaron is estranged from his family because "it's just kind of the way he's chosen to do life."
The show's host Bill Simmons didn't go there (perhaps by request) or an exchange about it didn't air, but another very sobering topic came up: concussions. Rodgers said he's suffered two. And as far as how the league can minimize the frequency and severity of head injuries, the Green Bay Packers QB suggested it's not about equipment but about changing players' mindsets:

"As much as [league officials] have everything in place possible, they have people who actually watch, they watch every player, there's one up in the booth -- and we have a number of doctors on the sidelines watching concussions ... The helmets and the pads are safe as they can possibly get them at this point. But (it comes down to) players feeling comfortable self-monitoring and telling somebody about it."
The 32-year-old Rodgers also described his concussions, which manifested quite differently. One of them resulted in a (temporary) loss of vision in his right eye. In the other instance, he found himself under center and didn't know the play he had just called.
"Well, I called the play. I recited it from my helmet. The only thing I remember from that sequence was, I was under center and I didn't know if it was a run or a pass ... So I kind of moved backwards, held it and got sacked. And that was it, I came out of the game."
"When you're competitive, the last thing you want to do is come out of a game, regardless of what kind of injury is."
Competitiveness, a desire to win and beat the man in front of you, is part of it but not all of it. There's also salary and survival.
Football is the quintessential game of attrition and "next man up." If a player comes out of a game, by the time he gets healthy he might be out of a job. And the average NFL career is only a shade over three years. A large portion of players competing to earn that first life-altering contract is not going to exit a game unless it's on a cart or by doctor's orders. In other words, they're not removing themselves.
Rodgers is a comfortable financial place that he earned after signing a five-year extension in 2013 with a $33 million signing bonus and $54 million in guarantees.
If more players were getting more guaranteed money, the mindset might change. In July 2015, ESPN's Arash Markazi reported that approximately 57 percent of the money in current NFL contracts were guaranteed dollars. Meanwhile, NBA and MLB contracts are fully guaranteed. Roster sizes and frequency of injuries probably will prohibit NFL contracts from ever approaching that level, but in the next collective bargaining agreement negotiations (the current CBA runs through 2021), it would serve everyone well -- the players' health and the league's long-term health -- if the players had more guarantees and therefore more job security.

SB Nation's Alex Reimer offers a good way to structure it:

"One possible solution would be for the union to fight for a league-mandated percentage of every contract to be guaranteed. Teams could exceed the floor, of course, but this system would at least grant some protection to every player who takes the field."
Players have taken notice of the size of the contracts that NBA players are receiving and many have joked about switching sports. It's too late for them, but not for high school kids.