Virginia residents complain of boom in fruit fly population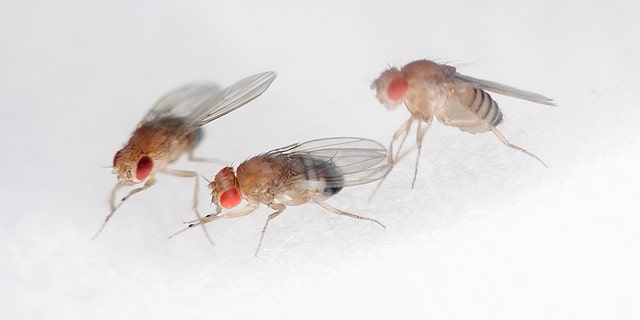 An increase in the fruit fly population in at least one Virginia county has caused an issue for homeowners.
Residents in Rockingham County have complained of an increase in the local fruit fly population, which WHSV-News reported is due to recent wet weather that has apparently created "the perfect environment" for these creatures to reproduce.
FLORIDA OFFICIALS WARN ABOUT VENOMOUS PUSS CATERPILLAR RETURN: A STING CAN 'EVEN MAKE YOUR BONES HURT'
While these insects "can be a problem year-round," they are "especially common during late summer/fall because they are attracted to ripened or fermenting fruits and vegetables," the Entomology Department at the University of Kentucky states online.
Fruit flies, which typically reach one-eighth of an inch in length and have red eyes, according to the entomology department, "will breed in drains, garbage disposals, empty bottles and cans, trash containers, mops and cleaning rags."
"All that is needed for development is a moist film of fermenting material," the department added.
INSECTS INVADING VIRGINIA AND PENNSYLVANIA COULD BE 'MOST DESTRUCTIVE SPECIES IN 150 YEARS'
Unfiltered apple cider vinegar, mixing vinegar and a few drops of dish soap, and red wine are few effective methods to get rid of these pests, as fruit flies have trouble resisting the smell of vinegar and red wine, Good Housekeeping reported.
For the first option, fill a dish or container with unfiltered apple cider vinegar, cover it with plastic wrap, and secure it with a rubber band before poking holes in the top. The smell will attract and then trap the insects inside.
Others who choose the wine, dish soap or vinegar options can leave the bottle or container uncovered.