Tropical bird in Massachusetts likely blown off course by Hurricane Jose dies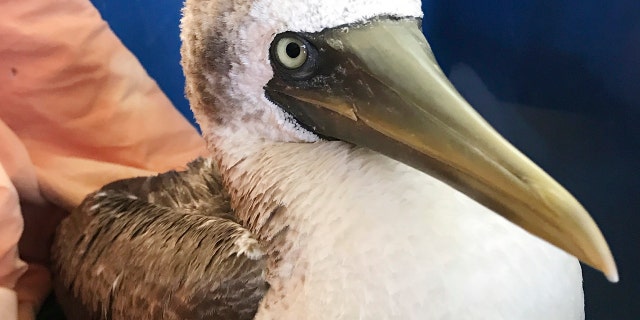 A tropical bird likely blown too far north from Hurricane Jose and believed to be the first of its type spotted in Massachusetts died Monday, officials said.
The masked booby was found last week at a beach on Cape Cod, according to Wild Care Cape Cod.
The rehabilitation facility said the bird's condition was "grim from the beginning," and got worse Sunday.
"The bird took a turn for the worst yesterday, and was placed on oxygen for much of the day," Stephanie Ellis, executive director of Wild Care, said in a statement.
The facility said a necropsy will be performed on the bird by Tufts University, and will then be taken to the Harvard Museum of Comparative Zoology for exhibit.
"I'd like to thank my staff for working tirelessly to pull this bird through," Ellis said.
Massachusetts Audubon science coordinator Mark Faherty previously told the Associated Press a masked booby had never before been reported on the state's soil. The seabirds are more common in the Gulf of Mexico.
The Associated Press contributed to this report.