Space Shuttle Crew Prepare for Historic Final Launch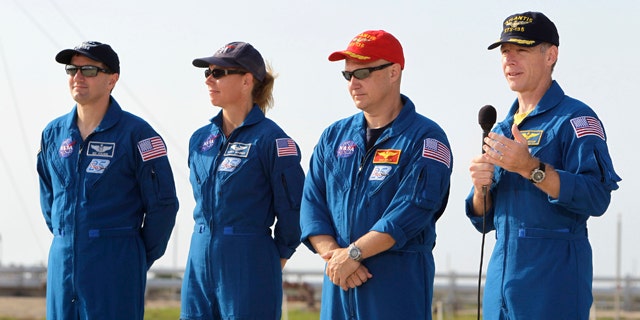 NEWYou can now listen to Fox News articles!
The four astronauts who will bid goodbye to the space shuttle program are practicing at the launch pad this week for their July 8 send-off.
Commander Christopher Ferguson and his crew will board Atlantis for a mock countdown Thursday.
On Wednesday, the astronauts met with dozens of journalists at the base of the pad, answering questions and posing for pictures that will go down in history as NASA's 30-year shuttle program ends.
It was such a momentous occasion that even reporters and photographers took a turn posing for the cameras, with Atlantis' orange fuel tank and two white boosters serving as an irresistible backdrop. The spacecraft itself was turned inward toward the pad and not visible.
"I couldn't think of a better backdrop," Ferguson said. "For those of you who have ever had the opportunity to just stand underneath it and look up, I've always said that the magic of the space shuttle is just its magnitude."
Astronaut Rex Walheim said he gets goosebumps "thinking that we're going to get to ride that in about two weeks."
The two other crew members are pilot Douglas Hurley and Sandra Magnus. All four are experienced space fliers.
Atlantis got a new fuel valve Tuesday. The old one, removed from main engine No. 3, showed a possible leak when the external fuel tank was filled last week to check for cracking. So far, the 50 reinforced brackets on the tank show no signs of cracks; technicians have completed about half the necessary X-rays. The new valve, meanwhile, will be tested this weekend.
Last November, Discovery ended up grounded for four months because of cracks that were discovered in the support brackets in the central portion of the fuel tank. The so-called intertank region holds instruments rather than fuel. The problem was traced to a brittle aluminum alloy, combined with assembly issues. The same material was used for Atlantis' brackets, which were reinforced before last week's test.
Only four astronauts are assigned to the 12-day mission, versus the normal six or seven, because of the fact that there no longer are any space shuttles on standby for a potential rescue. In the event of serious damage to the shuttle at liftoff, the four would move into the International Space Station and return, one at a time over the course of a year, via Russian Soyuz capsules.
Atlantis will carry up a full load of space station supplies. NASA hopes it will be enough to keep the orbiting complex going until private companies are able to take over cargo hauls.
This will be the 135th time a shuttle has blasted off. Discovery ended its flying career in March, and Endeavour on June 1. All three shuttles will retire to museums; in the case of Atlantis, the Kennedy Space Center Visitor Complex will be its final stop.