Space Junk no Longer a Threat, Station Crew Safe, NASA Says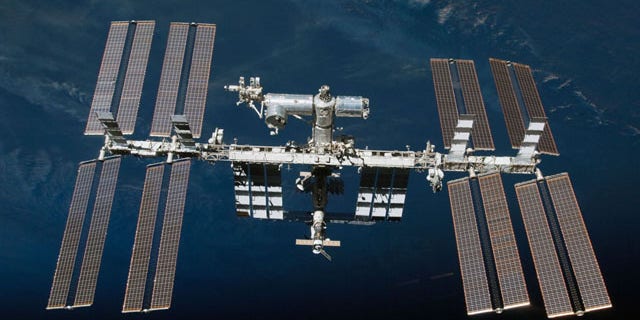 NEWYou can now listen to Fox News articles!
CAPE CANAVERAL, Florida – A small piece of space junk drifting dangerously close to the International Space Station led NASA to warn of a potential need for evacuation early Tuesday -- but the space agency has since sounded the all-clear.
Mission Control informed the crew at 2:41 p.m. Tuesday afternoon that the debris no longer posed a threat.
"That means we don't get to jump out tonight?" joked Italian astronaut Paolo Nespoli. He said he had been looking forward to getting some pizza. "OK, next time," he said.
Eight hours earlier, Mission Control had told the astronauts they might have to leave the space station and seek shelter in their attached capsule, after determining there was not enough time to steer the orbiting outpost away from the space junk. That precaution is no longer needed.
The debris -- about 6 inches (15 centimeter) in size -- is from a Chinese satellite that was deliberately destroyed in 2007 as part of a weapons test. It was projected to pass within three miles (five kilometers) of the space station, warranting a red threat level -- NASA's highest.
That threat level has been lowered from red to green.
Just last Friday, the space station had to move out of the way of an orbiting remnant from a two-satellite collision in 2009. Debris is an increasingly serious problem in orbit, because of colliding and destroyed spacecraft. Travelling at 5 miles (8 kilometers) a second, damage can be severe, even from something just inches in size. Decompression, in fact, is at the top of any space farers' danger list.
More than 12,500 pieces of debris are orbiting Earth -- and those are the ones big enough to track.
Mission Control notified the crew of the threat early Tuesday morning, a few hours after the risk was identified. The three crew members are Dmitry Kondratyev, the station's Russian commander, American Catherine Coleman and Italian Paolo Nespoli.
The orbit of the space junk was extremely erratic, and there was quite a bit of atmospheric drag on it, said NASA spokesman Josh Byerly. Experts monitored the debris into the early afternoon, to determine its exact path, and later told the crew that they would not have to close themselves off in the Soyuz spacecraft.
The three station residents arrived in the Soyuz last December. The spacecraft serves as a lifeboat in case of an emergency. It will be used at the end of their six-month mission to deliver the crew back to Earth in May.
If the risk level had remained red, the astronauts would have had to remove ventilation lines running from the space station's major modules, seal the hatches to the rooms, and switch the radio channels so they can remain in contact with flight control teams in Houston and Moscow.
The last time a station crew took refuge in a Soyuz was in 2009. That time, the crew had less than an hour's advance warning. This time, the astronauts had nine hours' notice.
A fresh three-person crew is en route to the 220-mile-high (355-kilometer-high) outpost after rocketing away from Kazakhstan. That Soyuz is due to arrive Wednesday evening.