Shuttle Atlantis Docks with International Space Station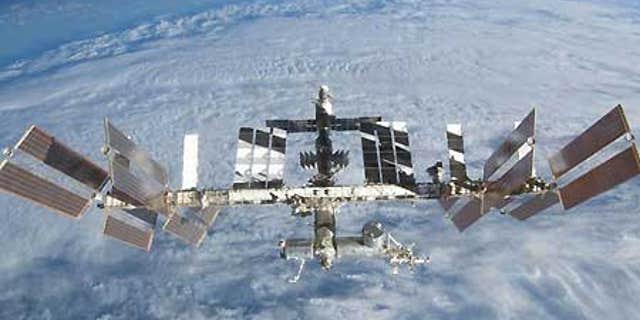 At 11:51 A.M., NASA's space shuttle Atlantis has docked with the International Space Station, 220 miles in the air over Australia and Tasmiania.
We're crashing the party," Atlantis commander Charlie Hobaugh radioed to the waiting station crew when the shuttle was about a mile away.
"We're looking forward to seeing you guys," station astronaut Jeff Williams replied.
The astronauts are expected to open the hatches between their spacecraft at about 1:48 p.m. EST after carefully checking the hatch seals.
As the space shuttle prepared to dock, Atlantis steered in a backward roll called a rendezvous pitch maneuver to give the station a detailed view of the shuttle's back side. Creeping towards the ISS, the shuttle slowed to a crawl, moving at just a tenth of a foot per second. Atlantis and its crew of six astronauts will deliver vital spare parts and other bulky gear that only NASA's shuttles can haul.
• SLIDESHOW: Space Shuttle Atlantis launch
• SLIDESHOW: Ready for takeoff — The crew prepares for lift-off
An early look at data from a Tuesday inspection of the heat shield panels lining Atlantis' nose cap and wing edges has found no immediate cause for concern. NASA experts will continue to analyze that data, as well as the images from today's photo session, to be sure.
"Preliminarily, we don't have any significant issues," said LeRoy Cain, head of Atlantis' mission management team. NASA has kept a close watch on the health of its shuttles since the tragic loss of shuttle Columbia and its astronaut crew in 2003 due to heat shield damage.
Atlantis launched Monday and is hauling more than 27,000 pounds of cargo to the space station, including a pair of massive carrier platforms laden with large spare parts for the orbiting laboratory. The spares, which include huge gyroscopes, pumps and other gear, will be installed at the station during three spacewalks planned for the 11-day space mission.
The shuttle will also ferry NASA astronaut Nicole Stott back home from the space station.
Stott has been living aboard the station since late August as part of the outpost's six-person crew. She will return home on Atlantis and is currently the last astronaut planned to be rotated on and off the station using a NASA shuttle before the fleet is retired in the next year or so.
Stott and her crewmates have been tackling some glitches with the station's systems.
A 150-pound device used to distill astronaut urine into pure drinking water is broken and will have to be returned to Earth on Atlantis. The stations' water processing assembly is also experiencing problems.
Neither glitch is expected to pose any concern to Atlantis' week-long stay at the space station, Cain said.
Mission Control roused the Atlantis astronauts at 4:28 a.m. EST with the song "Higher Ground" by Stevie Wonder, a tune specially selected for mission specialist Bobby Satcher, who is making his first spaceflight.
"We're looking forward to a good day," Satcher said.