Shellfish science: Experts eye making green bags from shrimp shells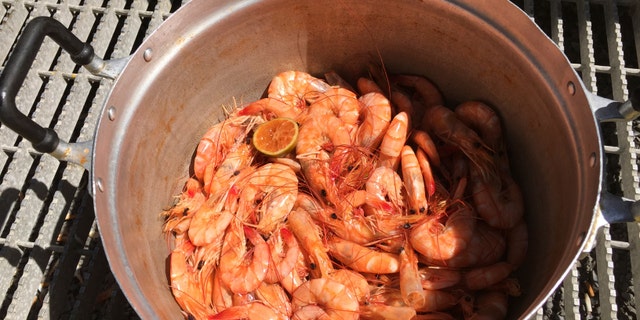 NEWYou can now listen to Fox News articles!
Researchers in the UK are working on a fishy idea that just might help the environment in Egypt.
The concept? Use shrimp shells as an ingredient in creating green shopping bags. Since plastic bags are a petroleum-based environmental nightmare, the idea is that the new bags would be biodegradable. The researchers are focused on specifically improving environmental conditions in Egypt, although plastic bags are a concern the world over.
The technique involves creating a polymer called chitosan by starting with shrimp shells, then extracting chitin from them, according to the University of Nottingham in England. The idea is that the innovative new material would be both biodegradable and affordable.
US ARMY ASKS FOR BIODEGRADABLE AMMO
"Use of a degradable biopolymer made of prawn shells for carrier bags would lead to lower carbon emissions and reduce food and packaging waste accumulating in the streets or at illegal dump sites," Nicola Everitt, an associate professor at the University of Nottingham who focuses on creating materials out of waste products, said in a statement. Everitt is working with Egypt's Nile University on the project.
Besides shopping bags, the chitosan product could also be used as a material to package food. Chitosan has an antimicrobial effect, and the University of Nottingham said that the new material they are working on could help extend food shelf life.
Ultimately, the project aims to turn the waste product— shrimp shells— into a useful product, and at the same reduce the amount of plastic bags in the environment.
"Non-degradable plastic packaging is causing environmental and public health problems in Egypt, including contamination of water supplies which particularly affects living conditions of the poor," Everitt said in the statement.
Follow Rob Verger on Twitter: @robverger