Scientists investigating a plastic-eating microbe accidentally improved it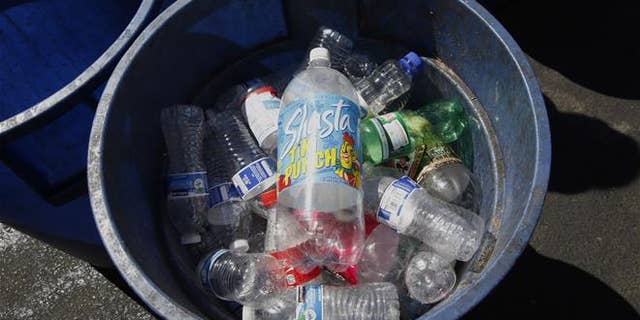 Some rare good news in the fight against plastic pollution: Scientists working with a plastic-eating microbe discovered in Japan two years ago accidentally created a mutant enzyme that sounds like an environmentalist's dream, the Guardian reports.
The enzyme breaks down the PET—polyethylene terephthalate—used in plastic bottles even more efficiently than the original microbe, which had evolved to eat the waste it encountered around an Osaka recycling plant.
Researchers, who inadvertently improved the enzyme while investigating how it evolved, say the tweaks enable it to begin digesting plastic more quickly. It now takes just a few days to start breaking down plastic, and researchers say more tweaks could make the process super-fast, reducing both plastic waste and the need to create more plastic.
"What we are hoping to do is use this enzyme to turn this plastic back into its original components, so we can literally recycle it back to plastic," says lead researcher John McGeehan at the University of Portsmouth.
"It means we won't need to dig up any more oil and, fundamentally, it should reduce the amount of plastic in the environment." Experts not involved in the research say it sounds extremely promising, though it may be a while before the enzyme can be used as a large-scale solution to plastic pollution, reports the Australian Broadcasting Corporation.
"Enzymes are non-toxic, biodegradable, and can be produced in large amounts by microorganisms," notes RMIT University chemistry expert Oliver Jones. (Researchers were depressed to discover the true extent of the Pacific Garbage Patch.)
This article originally appeared on Newser: Mutant Enzyme Munches Plastic